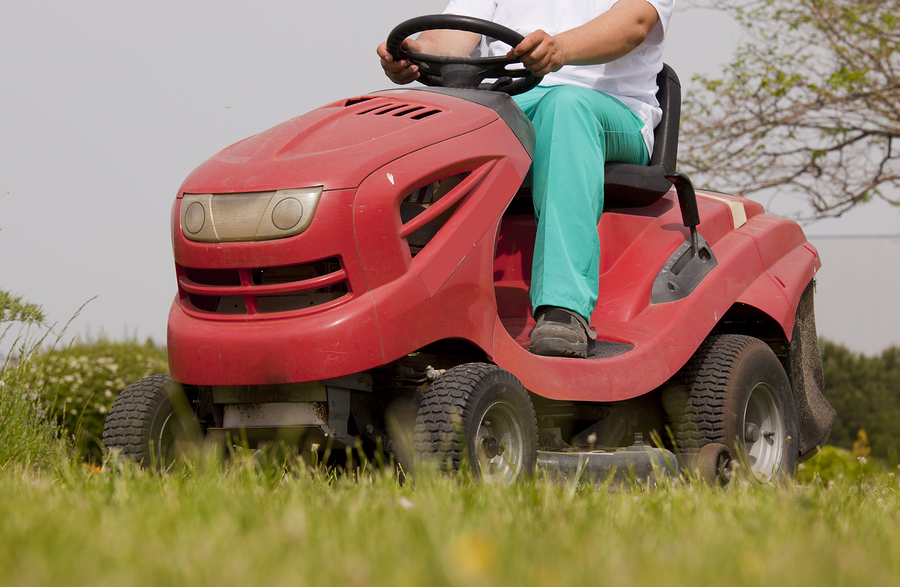 What lawn mower is easiest to get stuck? Any riding mower with a dummy operating it! I have been that dummy, so don't feel bad if that has happened to you. Smaller push mowers are almost impossible to get stuck since they are so light and you could lift them out of a wet ditch if need be. Even commercial walk behind mowers can get stuck if you get them in a bad spot. A bad spot being a wet ditch or a tight area with no room to maneuver. But most likely, if you are using a mower and get it stuck, it is a riding mower. So, how to get the riding lawn mower going again?
What is the Best Way to Get the Lawn Mower Unstuck ?
To be frank, not getting stuck in the first place is best. It is easier to "stay" out of a hole than "get" out of one. That is an old saying that applies to any sort of trouble and it is logical. It is much easier to simply not take a chance on driving your 800 pound lawn mower down a sketchy looking ditch. Figuring out how to get the mower out of the ditch once you mess up is a bit harder. So when it doubt, don't try it. Let me repeat that, don't try it. Save yourself the headache and use a weed whacker on ditches and gullies that are too wet to chance mowing.
When You Do Get Trapped…
I know you will eventually ignore the "stay out" advice I just gave you. So, you will no doubt get your riding mower stuck at some point. What lawn mower owner has not done so? For all I know, you are stuck right now and have Googled some help and arrived here. Hopefully I can help you out of a muddy situation.
When I started out mowing for the public, I was in a hurry to stay on schedule. So I got stuck sometimes as a result of taking my big zero turn mower in places it didn't belong. I tried to save time on the weed eating even when I knew an area was too wet to go on. I have been embarrassed many times on a road side ditch with my mower tires spinning to no avail. It is not a fun spot to be in, I can tell you that.
Some Helpful Tips
Avoid the Deck Getting Wedged
One tip to get a mower unstuck is to avoid getting the deck wedged in a tight ditch. A tight area can prevent your tires from grabbing even when the area is dry as a bone. Keeping the edge of the deck away from the opposite side of the ditch from which you are mowing is crucial. If that deck edge creeps over, it can dig into the ground and cause a big delay in your mowing.
Wet Ground Dangers!
If you are mowing on wet ground and you feel the mower start to lose traction, you have to make a move immediately. Stopping to turn or pausing even a little may cause the machine to become stuck. If possible, keep moving forward at a good speed toward drier ground. This method helps about 75 percent of the time if you are a good driver. After getting stuck a few times you will know when you have made a mistake and crossed into a soggy area you should have avoided.
Always Take This Tool With You!
Keep a long heavy chain with you. You will need it when you really get yourself bogged down. If you have two riding mowers with you, you can use one to pull out the stuck machine sometimes. You may have to use the truck in other cases. It depends on the power of the extra mower. Be careful with this method as you can really do some damage to the property owner's yard. Getting a truck stuck is not an option!
I hope that helps when you make a miscalculation while mowing on wet ground. Saving a little time by risking a stuck mower is not worth it. Pulling out a machine will eat up any time savings you thought you were gaining.
Keep Mowing!