In-depth Review of the Toro 20183 Super Recycler Lawn Mower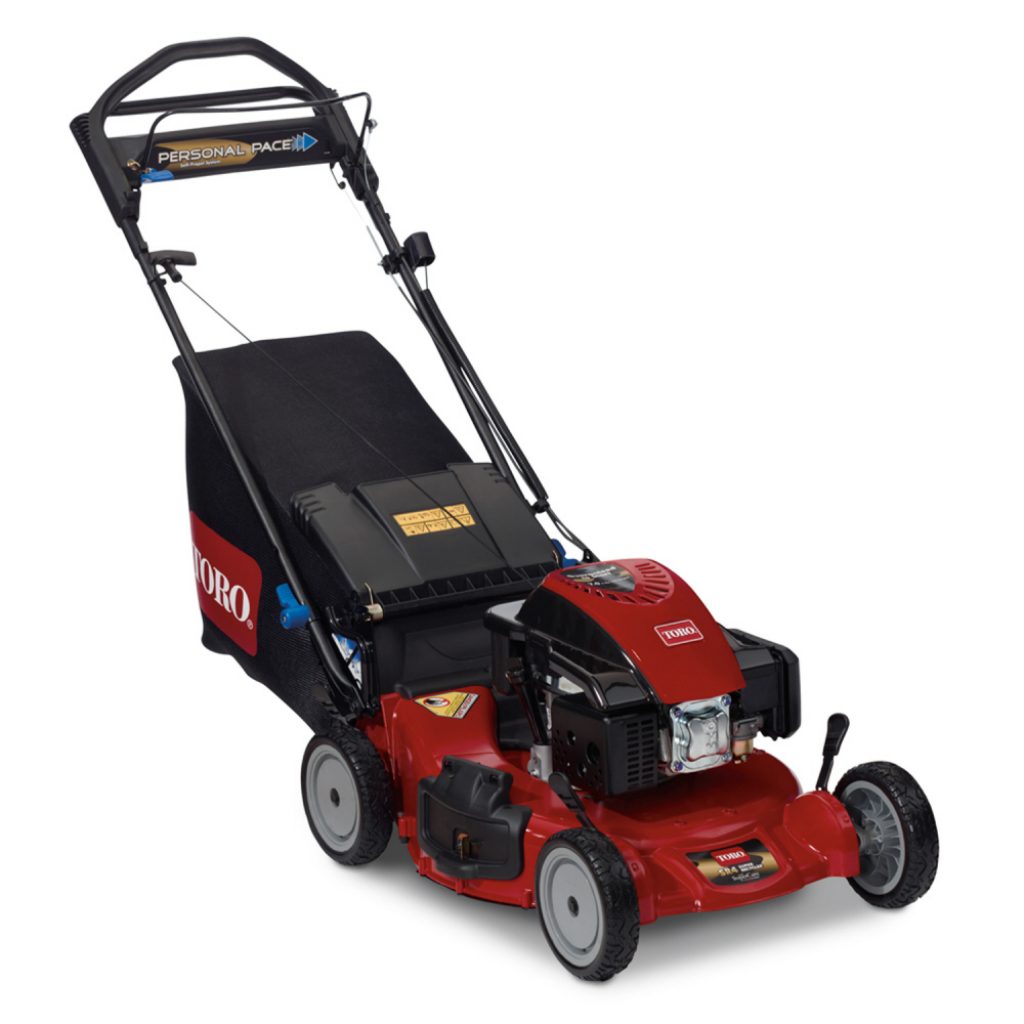 Equipped with Personal Pace Self-Propel System and a patented Super-Recycler cutting system, the Toro 20383 rear wheel drive mower is amongst the company's best-selling mowers. With every run, its 21" cutting deck with a razor-sharp cutting blade, clipping accelerator and kickers ensure that its cutting and mulching abilities are harnesses to the fullest. Owing to its quick manual start, automatic transmission and swift maneuverability, this self-propelled mower from Toro is a league apart from its competitors and provides complete value for money!
Sounds too good to be true? Let´s find out what my test results show. Please scrow down to read my full review.
---
Product Overview
---
Ease of Use
Despite its varied user-friendly features and fuss-free assembly, I'm not going to deny the fact that the Toro 20383 Super Recycler Mower is a slightly heavy machine, weighed around 90 pounds. But since the good thing about self-propelled mowers is that you don't need to push them, the weight doesn't matter t at all, once you've got this beast running! What's even better is that this model has an auto-choke, so there's no need to prime or choke. About 90 percent of the times (over the last 5 months), I've been able to start this mower with one pull; the remaining times, I had to resort to 2 pulls, but nothing beyond that. In fact, Toro provides a 5-year 'easy-start' assurance with this model. So if you have any difficulty starting this machine, it's their job to come, fix it and ensure that your efforts are limited to one or two pulls at the max! I'm pretty much in love with the first-of its kind Personal Pace Self-Propel System, which automatically senses your walking speed to match your pace. Also, if you need to pass through an area without mowing or need to halt to empty the bag, the convenient Blade Override System lets you do so, without needing to stop the engine. In case you lack storage space in your shed, there's good news, because this Toro mower has a partially foldable design for upright storage as well. The only 'ergonomic' aspect where I feel Toro could've exceeded my expectations, was if they'd provided front swivel wheels for even better maneuverability!
---
Cut Quality
The Toro 20383 Super Recycler Mower has a 21" cutting deck made of cast aluminum, and includes all 3 cutting options of mulching, bagging and side discharge. If you've read any Toro mower reviews in the past, you'd know that these are highly acclaimed for their superior cutting quality. I'm pleased to tell you that this particular model from Toro lives up to all your lofty expectations with finesse! I've tried running it over soaking, wet grass patches at times, and it managed to do a fine job even then. As part of the 'rigorous testing' I wanted to subject this mower to, I even used it on my new clients' lawn that had really dense weeds outgrowth and a good amount of thatch. To my surprise, the Toro 20383 managed to cut the grass well in just 2 passes! I'm also quite pleased with the mulch plug; the final mulch obtained is evenly discharged and spread without creating any kind of mess. Even bagging is carried out considerably well. This one time, the bagger chute got clogged, and that's when I realized I hadn't fixed it properly. So follow the instruction manual to the hilt!
---
Height Adjustment
Ranging from 1.25" to 4.25", the Toro 20383 Rear Wheel Drive Mower gives you 7 positions to adjust the cutting blade at. That's quite a decent range and figure, and will largely suffice for mowing all kinds of grasses. Many mowers in this price range tend to offer 4 to 6 cutting heights only; so this automatically gives you the 'extra-edge'. Moreover, this self-propelled beauty lets you change the height of the front wheels and rear wheels separately, a feature that's not very common. There's a slight glitch though; the height adjustment lever for the front wheels is not easily accessible and you have to bend and yank it. That is why I deducted 0.5  point in this rating.
---
Motor Power
The 159cc Toro Engine exerts 7 ft-lb torque and most certainly burns cleaner than inferior side-valve engines. You know what that implies- maximum fuel conservation, minimal smoke and less noise. It's a relief to be using this mower from Toro, after my fair share of clunky, lethargic beasts from various other brands! Moving over to the crucial aspect of power, I can tell you with great conviction that this is one of the most efficient engines I've worked with till date. I've been using this mower on my lawn as well as several of my clients' lawns over the past 8 months, and it powers through the toughest of slopes, hurdles and mounds with superb ease!
---
Maintenance
One of the biggest advantages of opting for the Toro 20383 Super Recycler Mower, is its comprehensive 5-years warranty coverage. Most other self-propelled mowers with similar features (like the Snapper 21" Self Propelled Gas Mower and the Husqvarna 961450023 21" Rear Wheel Drive Mower) offer only a limited 3-year warranty period. As expected, there's a quick washout port for hands-free cleaning of the deck, and all the metallic parts like the deck, front axle, drive-train etc are provided with a rust-resistant finish for greater longevity. Overall, you can observe that a lot of attention has been paid towards each and every part, no matter how small it is. Even the handle is made of sturdy steel, as opposed to cheap plastic and, the Aluminum deck will last you a lot longer than conventional stainless steel ones. My 'expert-eye' can tell you one thing for a fact- getting home a Toro lawn mower means getting home a piece of equipment that's going to last you for ages!
---
---
Cost Effectiveness
At a glance, the Toro 20383 Super Recycler Mower appears to be priced on a higher side. But as you closely observe the myriad advantages of spending a little more to purchase a highly durable and peak-performing machine, you'll figure out the amazing value for money you get. While most other mowers start to incur heavy repairs and maintenance costs within 5 years of use and eventually become nothing but money-traps, this Toro rear-drive mower will easily last you for 10-15 years at least, exhibiting the same robustness and efficiency. The generous 5-years warranty itself speaks volumes about it cost-effectiveness in the long run!
---
Suberb Self-Driven Lawn Mower by Toro
If you need a high-performing self-propelled mower that's fairly easy to use, warrants minimal maintenance hassles and will last you for years at a stretch, the Toro 20383 Super Recycler Mower is indeed the apt choice. Most suited for residential lawns up to 1 acre, this lawn maintenance pro is up for all kinds of mowing challenges and rugged terrain, exuding unbelievable power, user-comfort and safety!
PROS
Feature-rich mower
Speed control
Suberb Cut Quality
CONS
Difficult access to rear wheel height lever
General Info
Features
Height Settings
Motor Info
Buyer Guarantee