On this page I go from what is a reel mower to the best reel mower reviews. I will show you what a reel mower can do and what not. You may not know it, but every lawn owner should have a reel mower. Read on and you will find out why. Also, I will reveal what criteria you should look for in reel mower reviews to make a good purchase. I´ll provide you all the information you can possibly need. At the end of this page you will find my personal  TOP 5 Best Reel Mowers of 2016!Thank you for visiting top5lawnmowers.com.
What Is a Reel Mower?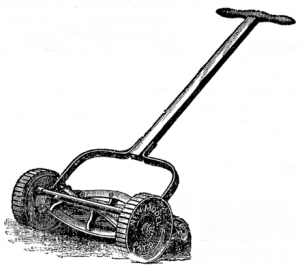 Did you know that it takes a flock of sheep almost 3 weeks to clear a tiny patch of land?  That was lawn mowing for you hundreds of years ago and then gladly for us, some crazy guy invented the first reel mower. What is a reel mower and why should you get one if you have a lawn? In the traditional sense, a reel mower is a mechanical instrument with a blade attached to a handle that rotates by drawing energy from the spinning of the wheels. These simple unsophisticated devices come handy when you only need to maintain a small patch of grass or for those occasional yard runs before a party.
No Noise Pollution! Did you know that is would take 17 reel mowers to produce the same noise as the quietest petrol lawn mower?
Rotary vs. Reel Mowers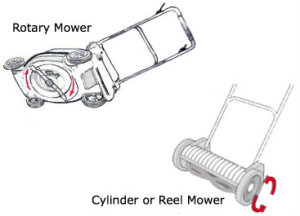 Reel Mowers are push mowers and push mowers can come in two varieties – Rotary and Reel. It depends on the direction of the blades spinning. Check out the image above. As you can see, in a reel type mower the blades are fitted in a cylindrical fashion and spin on a horizontal axis thus pushing down on grass and cutting through as the blade moves upwards. In fact, reel mowers are also called cylinder mowers. On the other hand, with a rotary mower the blades spin horizontally along a vertical axis slicing through grass. The former leaves a more level finish akin to what the putting area looks like on a golf course. Rotary type mowers usually leave a slightly brownish finish with a more blunt cut. What you will commonly find in mechanical mowers is the reel type although rotary versions do exist. Both reel and push rotary mowers belong to the category Walk Behind Lawn Mowers.
Why Buy a Reel Mower?
Zero Maintenance
With no motor or engine, no moving components other than the blade mechanism, reel mowers need absolutely no maintenance other than an occasional greasing of the blade housing and associated components. Naturally they have a longer shelf life.
Ideal For Short Runs
Even when you own an electric or gas mower, having a reel mower is always beneficial. Got a small patch that's grown slightly taller than the surroundings? Take out the reel mower and get it under control in a matter of minutes.
Budget Friendly
Most reel mowers, irrespective of the brand or design come for less than $100 making them an indispensable and affordable tool to keep in your out-shed.
Eco-friendly
No electricity necessary and no gas needed – reel mowers are environmentally safe, powered by you.
One Time Investment
Once you purchase a reel mower, you own it for life. With no electric or electronic components, no engine – just pure mechanical rotating parts – it needs only regular greasing of the joints and replacement of the blades to keep it sharp and ready.
Hassle Free
Reel mowers are simple machines with a spinning mechanism to cut grass. There is no starter cord or some electric start button. You need no gas or batteries. You just need a fair pair of legs and the will to start mowing! So, no cranking issues for you when you decide to go for a reel mower!
Nicer Cut
Not only are reel mowers healthier for your lawn, they also give it a nicer cut. It´s like comparing cutting your hair with a raiser to getting it manually cut at the barber´s shop. Which hair style do you think looks nicer? With a reel mower you get the same effect as at the Barber´s: a beautifully manicured lawn or hair.
What a Reel Mower Can Do (and what not….)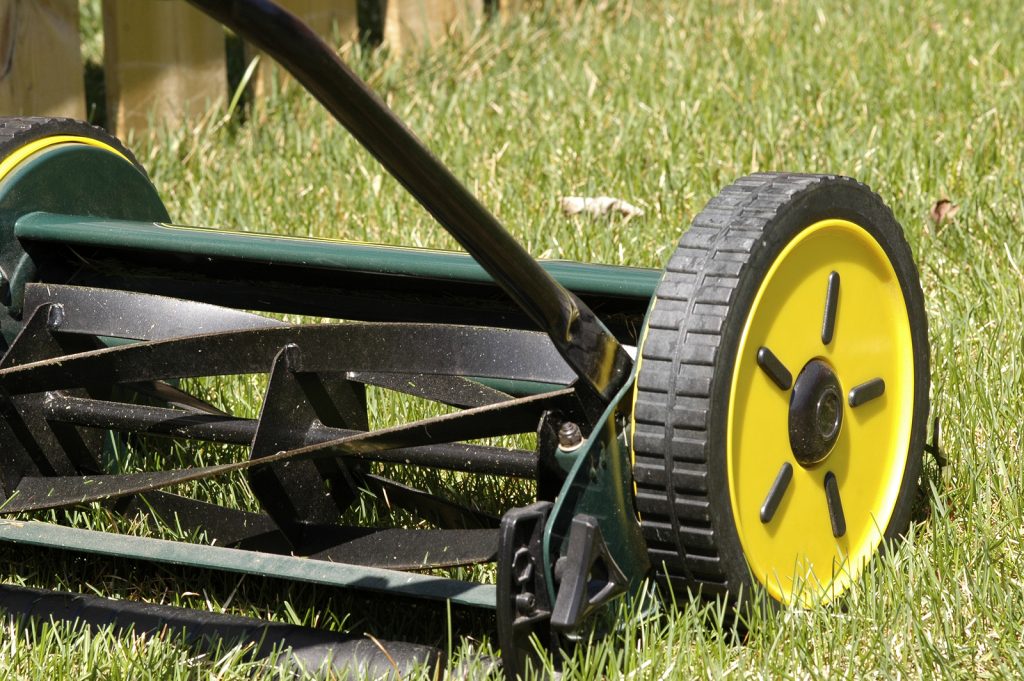 PROS:
A reel mower is a perfect standby mower, if one of your powered mowers fail to do the job, or your electric mower runs out of batteries. Remember, your reel mower will never fail!
Your reel mower will provide you the extra manual power you need to cut some higher or heavier grass. Powered mowers tend to leave some spots out specially on wet or high grass. That´s when a reel mower comes in really handy.
A reel mower is the perfect tool on hilly lawns. Where a motorized mower is propensive to flip over, your reel mower will just stick on the ground!
Got a few flower beds riddled across your lawn? With a reel mower you can get as close as possible to obstacles and flower beds without messing with the boundaries. And with an accompanying edger, you can maintain perfect lawns.
CONS:
A reel mower isn't suitable to edge your lawn. To get nice manicured edges, you really need to use an edger. Sorry…
More bad news: your reel mower cannot trim your lawn. But, the good news is: a powered lawn mower cannot do that either! To trim your lawn, you will be needing a string trimmer or lawn trimmer.
A reel mower cannot drive itself along your yard either like a self-propelled lawn mower can do. The good thing: even with a self-driven machine you have to guide the mower over your lawn, so your time investment will be the same:)
Last, but not least, a reel mower isn't a lean, mean grass eating machine by its own. It needs YOU to push it! If you don't like to get hot and sweaty, better choose a powered self propelled mower.
What to Look for in in the Best Reel Mower Reviews
Regardless, of the type of reel mower, here are a few factors that I use to decide on the best reel mower reviews. Check them out here.
How easily can you push the mower across an even terrain of tall grass cover? Is the deck size small or large and how does it impact mowing? Since such mowers lack engine, it must be easy to push. What mechanism is used? Can you quickly change the handle height, cut height and so on? Does it come pre-assembled and if not, are the instructions easy to follow?
How closely can the blades come to the turf before scrapping against it. Does it leave jagged edges or smooth clean cuts? What is the overall cut? Can the mower handle tall or wet grass. And most important of all, does the cut quality suffer if you try to move too fast or slower than usual?
Is there an option of adjusting height in the mower and if so how many levels are available. For four wheeled reel mowers, does each wheel get its own independent lever or is there a single height lever?
How long do the blades last before they need to be refurbished? When do you have to replace the blades? Does the soft grip of the handle wear off and when? What materials are used for the deck and blades. Are there any components that have a knack for repeatedly breaking? Does the warranty exclude any part of the mower?
Compared to competing brands and models, is the mower priced competitively? What is the total cost of ownership or maintenance over the entire course of its life. Does this price justify the purchase cost?
TOP 5 Best Reel Mowers

New technologies modernize the push reel mower mechanism and reel mowing has never been so easy. Unlike powered or self propelled mowers, the reel mower produces virtually no pollution and there are no extra costs in fuel. (Important to those wanting to reduce their carbon footprint) The maintenance is minimum and so is the noise. You might even lose some calories gardening with your new walk behind lawn mower! No wonder, these push lawn mowers sell like crazy:
Here Is My TOP 5 of the Highest Rated Reel Mowers of 2016
---
A Reel Mower or another Walk Behind Mower?
There are other mowers that are also very "green", and offer some mechanical help to cut the grass. One example is an electric lawn mower. They come in corded and cordless versions. They are quite suitable for small lawns and are eco-friendly as well! For bigger or hilly lawns you will need some extra power. A gas powered mower or a self propelled lawn mower will do the trick then.
If you like to see my recommendations regarding the type of mower to use in relation to the size of your garden then click to see my walk behind mower Buyer´s Guide.
Ask Me to Review!
I love your comments! One of the methods that I use to choose products to review is relying on your suggestions and ideas. If you want a reel mower reviewed or have any question on my reel mower reviews, please leave a comment and I will get back to you as soon as possible. Don't forget to hit that share button too!