I am putting out this riding lawn mower quick start guide for those who prefer a seat while mowing. I will count myself among this bunch. A walk behind mower is fine and will do the job. But when you have a big personal lawn or have to cut many lawns each day in a lawn care business, riding will save you some serious energy. If you are planning on buying a new riding mower soon, this riding mower quick start guide will be of help to you. Hopefully there will be a couple of tips in here for you mowing vets as well.
Haven't yet purchased your riding mower? Stuck deciding which mower to get?
Read my riding lawn mower buyer's guide designed specifically to help you decide on the right type of riding mower.
Check The Documents That Your Riding Mower Comes With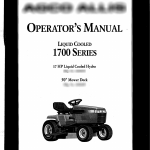 If you are buying a new riding lawn mower, then make sure and check out the owner's manual. Some of the info is common sense, but there are also some valuable tips inside. Simple information like how often to sharpen blades and the gap on spark plugs is very useful when it comes time for regular maintenance. If you end up buying a used mower, then you likely won't get the original owner's manual. You can often find most manuals online (Click HERE) or at the manufacturer's website though.  The seller of the mower should be able to answer any questions you have to get you up to speed on your purchase.
Diagnosing Starting Issues Plus A Few Starting Tips
A lawn mower quick start guide would not be complete without some quick cranking tips. Most riding mowers are electric start so all you have to do is turn a key. That is a better option than puling on a cord to crank the machine. Not much of a chance of throwing out your shoulder with a simple key turn! It is a good idea to take the key out of your riding mower when not in use. Now, you wouldn't want a child to get hurt if he wandered up to the mower and played with the key unattended.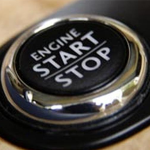 Electric Start Troubleshooting
On an electric start mower you of course have to keep a good battery. That is pivotal to cranking. A decent new lawn and garden battery will cost about $50 and should be warrantied for about two years. Be sure and keep the receipt in case of a problem. Along with the battery, the ignition system depends on a starter and a solenoid switch. The solenoid switch is often the problem if the battery is OK. If your mower will not even turn the engine when you engage the key, check the solenoid. If the starter is the issue, this is a bit more trouble. You will have to disconnect a couple of wires and unbolt the starter to take it off, then have it checked at a shop or auto parts store.
Have You Checked The Oil Level!
I hate to even have to mention this in a lawn mower quick start guide, but I will anyway. It should be common sense, but checking the oil before each use is very important. The best way to damage your engine is to run it with very low oil. Checking the dipstick is like doing so on a car, so it only takes about ten seconds to do this task. Trust me, ten seconds is worth it when it comes to engines that could cost over $1000 to replace.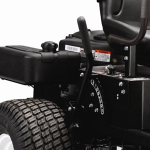 Is The Safety Swift On?
Some easier issues to solve when you have trouble starting your riding lawn mower are safety related. There are safety switches on riding mowers just like those on walk behinds. There is a switch that kills the engine if you are not sitting firmly on the seat. This is to protect you in the event you should fall off your rider. Another switch prevents the machine from cranking if the blades are engaged. This is for your safety, and it protects the engine from heavy loads that cause wear and tear. Many lawn tractors also have a safety switch that prevents you from going in reverse with the blades turning. Zero turn mowers have a similar switch that prevents them from cranking with the steering handles ready to move. They must be in a neutral position to start the engine.
As you can see, there are some starting issues that will take up ample time. While other problems can be fixed with just a little checking and some careful thought. The best way to get started using your new or "new to you" riding lawn mower is to start slowly. After a few uses you will have a feel for it and be able to make better time and do a higher quality job. It is similar to an automobile. We are super comfortable driving a car that we have owned for years, but feel antsy driving a rental car or a loaner from a friend.
To close this guide out I will give you a quick checklist for each time you use your mower. Before starting the engine you will want to:
Check the engine oil
Check the transmission oil if applicable.
Eyeball the tires to make sure they are not low.
Make sure the mower is in neutral.
Check safety switches if the key will not turn the engine.
And Finally, Is Your Mower Out Of Gas!
Last but not least, there is one key thing to check when starting your mower. It is so obvious, we can all fall prey to missing it. I almost forgot to include it here! If your lawn mower will not crank, but the engine turns over, it is possible, to quote Karl from 'Sling Blade'….."it's out of gas."
Interested In Buying a New Riding Mower?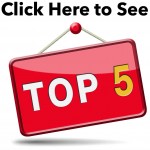 Haven't yet purchased your riding mower or want a new one? Stuck deciding which mower to get? Read my Riding Lawn Mower Buyer's Guide designed specifically to help you decide on the right type of riding mower.