Amongst Electric Lawn Mowers, GreenWorks Lawn Mowers are definitely the rage of the day. And why shouldn't they be? As a home owner, whether you opt for an electric corded mower or a cordless, battery-operated one from GreenWorks, you're bound to love the fact these hi-tech lawn mowers are:
Emission-Free
Not Noisy
No Heavy vibrations
Lightweight
User-Friendly
Cost Effective
Free of Gas, Oil, Plugs and essentially all maintenance hassles!
Well, the bad thing is that GreenWorks literally leaves you spoilt for choice. With the sheer variety of GreenWorks Lawn Mower Models, you might find it difficult to pick one that's just right for your requirements. Don't worry! With my highly-researched and comprehensive listing of the Top 5 Bestselling GreenWorks Lawn Mowers, I'm sure you'll be able to decide for yourself!
Here Are the Top 5 Best-Selling Greenworks Electric Lawn Mowers
GreenWorks 25142 Corded Lawn Mower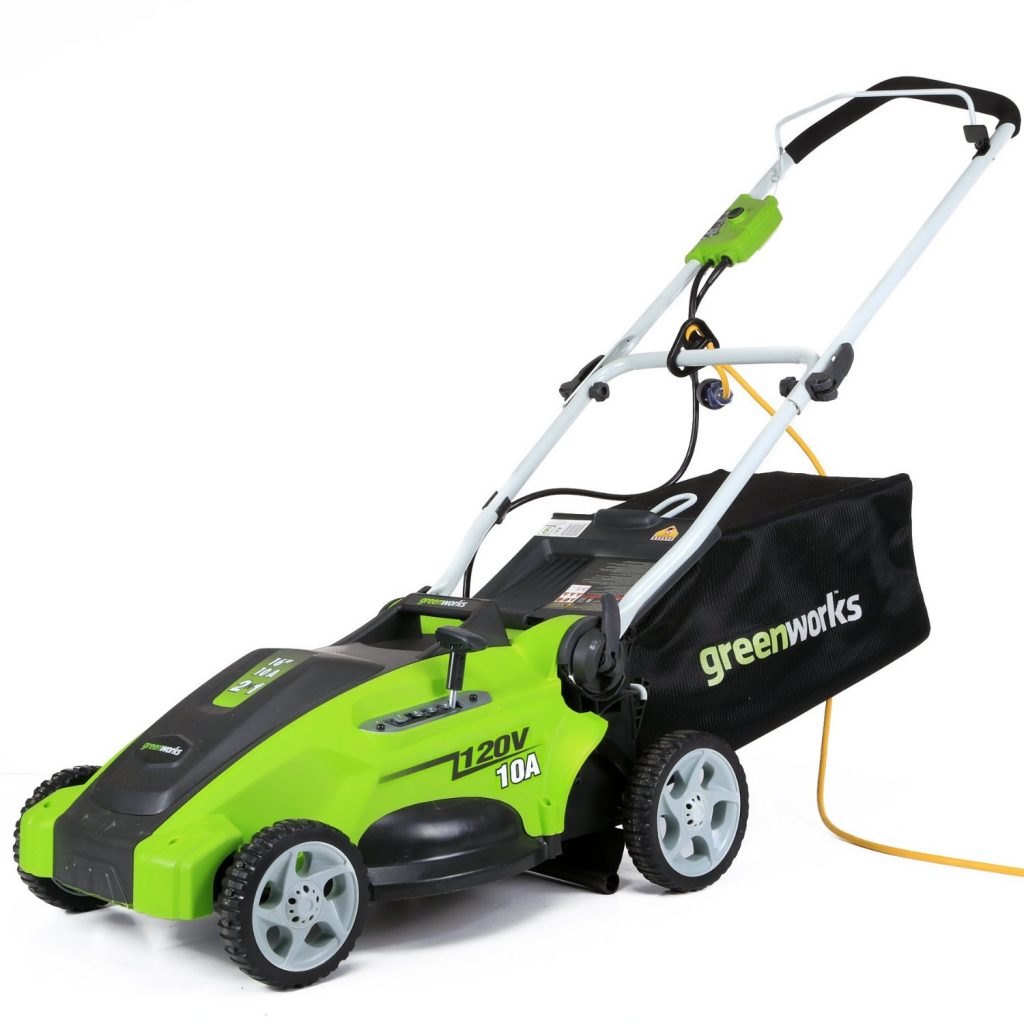 Amongst all GreenWorks Lawn Mowers, the GreenWorks 25142 is not only renowned for being the most lightweight and compact, but also for being the most pocket-friendly. Its unbelievable efficiency and innate user-friendliness, will leave you bedazzled!
The Greenworks 25142 is the No.1 choice for hassle-free management of small and medium-Sized Lawns. Also ideal if your garage has very little storage space.
Why Buy the Greenworks 25142 Corded Mower?
Durable Stainless Steel Frame with power 10 Amp Motor
Ergonomic design with foldable handles for easy storage
Ability to mow uneven, lopsided terrains with 7" rear wheels and 6" front wheels
Weighed at just 39 pounds, hence super-easy to maneuver
16" Cutting Deck made of durable plastic
5 variable height adjustment options 0.875 to 2.75 inch
User-friendly features like Cord Lock
Grass Clippings can be mulched or rear-discharged
Low Decibel Levels and Zero Fumes
<<< Click Here to Read My Full Review >>>
Quick Overview of My Test Results
GreenWorks 25112 Corded Lawn Mower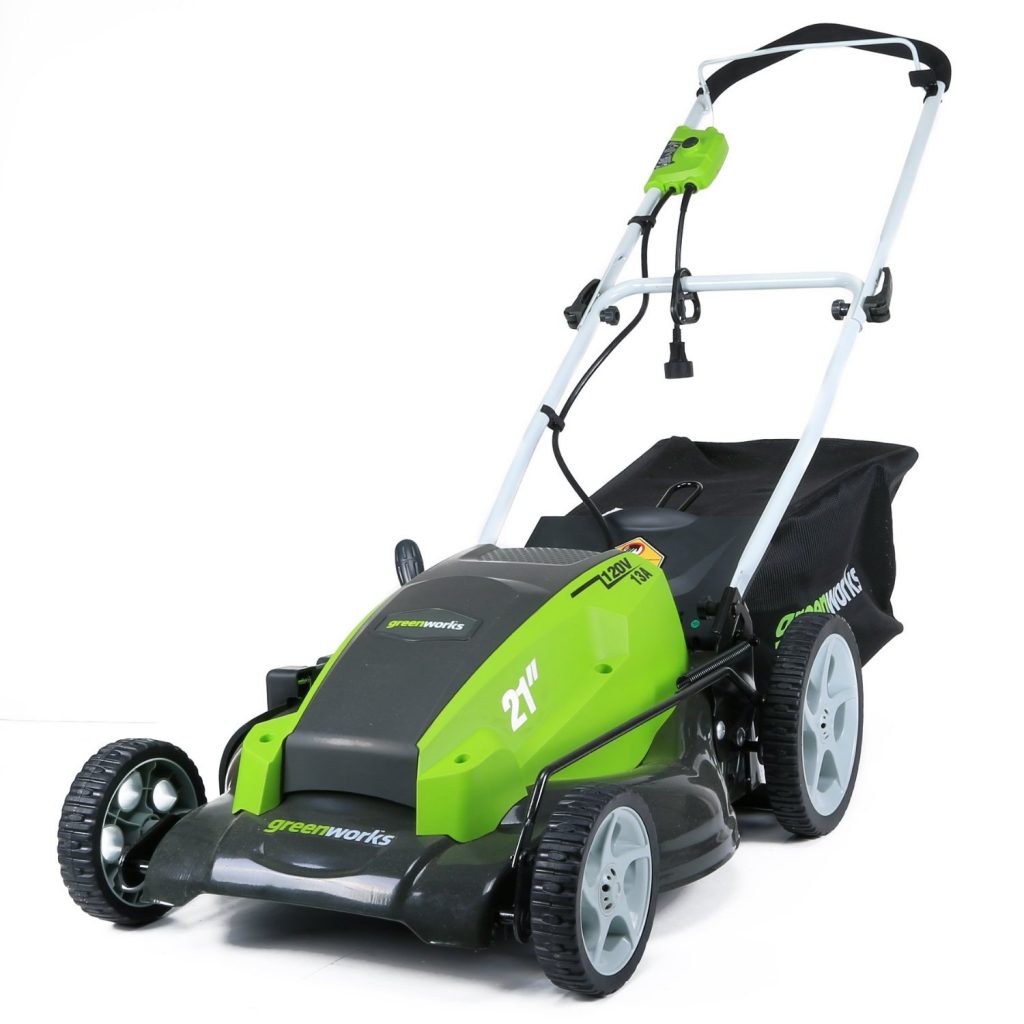 Yet another popular corded model amongst GreenWorks Lawn Mowers, the GreenWorks 25112 corded lawn mower is quite similar to the No.1 Ranked GreenWorks 25142 in many ways. But it happens to be a tad bit heavier, bigger and higher priced. This quick-comparison chart between both models will give you a crystal-clear picture for sure!
| Features/specification | Greenworks 25142 | Greenworks 25112 |
| --- | --- | --- |
| Motor Power | 10 Amp | 13 Amp |
| Height Adjustment | 5 positions | 7 positions |
| Cutting Deck Area | 16" | 21" |
| Cutting Deck Material | High-Grade Plastic | Stainless Steel |
| Weight | 37.5 lb | 53 lb |
| Wheels | 7" rear, 6" front | 10" rear, 7" front |
A much-coveted combination of innovative design, sturdy build and robust performance, the Greenworks 25112 mower is a boon for urban home-owners who've had a tough time managing their lawns so far!
Why Buy the Greenworks 25112 Corded Mower?
Heavy-duty 13 Amp Motor for peak performance
Well-built 21" Stainless Steel Cutting Deck
Easy 7-Position Height Adjustment from 1.75 to 3.75 inch
Triple Functionality- Rear Bagging, Side Discharge, Mulching
Compact design with Retractable Handles, 10" rear wheels and 7" front wheels
Weighed at 55 Pounds, minimal vibration and no fumes
<<< Click Here to Read My Full Review >>>
Quick Overview of My Test Results
GreenWorks GLM801600 Cordless Lawn Mower
GreenWorks Lawn Mowers are known for their impressive, high-powered battery-run models. Apart from the fact that you needn't worry about managing the cord, the GreenWorks GLM801600 takes the cake for its sheer reliability and simplistic features.
Should you be really serious about getting home a cordless model for sprucing up your lawn, this is definitely the most sought-after one amongst all GreenWorks Lawn Mowers!
Why Buy the Greenworks Pro GLM801600 Cordless Mower?
User-friendly cordless design
Electric Start
Cutting-edge DigiPro Brushless Motor for assured peak performance
Intuitive Smart-Cut Technology for meticulous cutting and longer run-time
Ballpark Run Time of 60 minutes with fully-charged 4AH Battery
21" Cutting Deck made of Tough Stainless Steel
Ability to Mulch, Side Discharge or Rear Bag
Gas-equivalent performance with fuss-free operation and no maintenance hassles
Low on noise factor, no carbon emissions
<<< Click Here to Read My Full Review>>>
Quick Overview of My Test Results
GreenWorks 25022 Corded Lawn Mower
Despite being ranked at no.4, the GreenWorks 25022 has clearly earned its fair-share of rave reviews, thanks to its well-engineered, eco-friendly design and 'trademark GreenWorks' features that are on the same lines as No. 1 and No. 2 ranked mowers.
When you glance at the list of best-selling GreenWorks Lawn Mowers on Amazon, you'll be awed by the close competition. The GreenWorks 25022 cordless lawn mower wins hand down for being a hi-tech, yet convenient and high-performing model for mid-budget buyers.
Why Buy the Greenworks 25022 Corded Mower?
Efficient 12 Amp Motor for power-packed performance
Seamless Height Adjustment varying from 1.5" to 3.75"
High-grade Steel Deck with Cutting Area of 20"
Versatility at its best, 3-in-1  model with mulching, side discharge and rear bagging
Super-easy to drag with 10"rear wheels and 7" front wheels
Hassle-free usage with easy push-start button, foldable handles and portable design
Eco-friendly and easy on your eardrums
<<< Click Here to Read My Full Review >>>
Quick Overview of My Test Results
GreenWorks 25302 Cordless Lawn Mower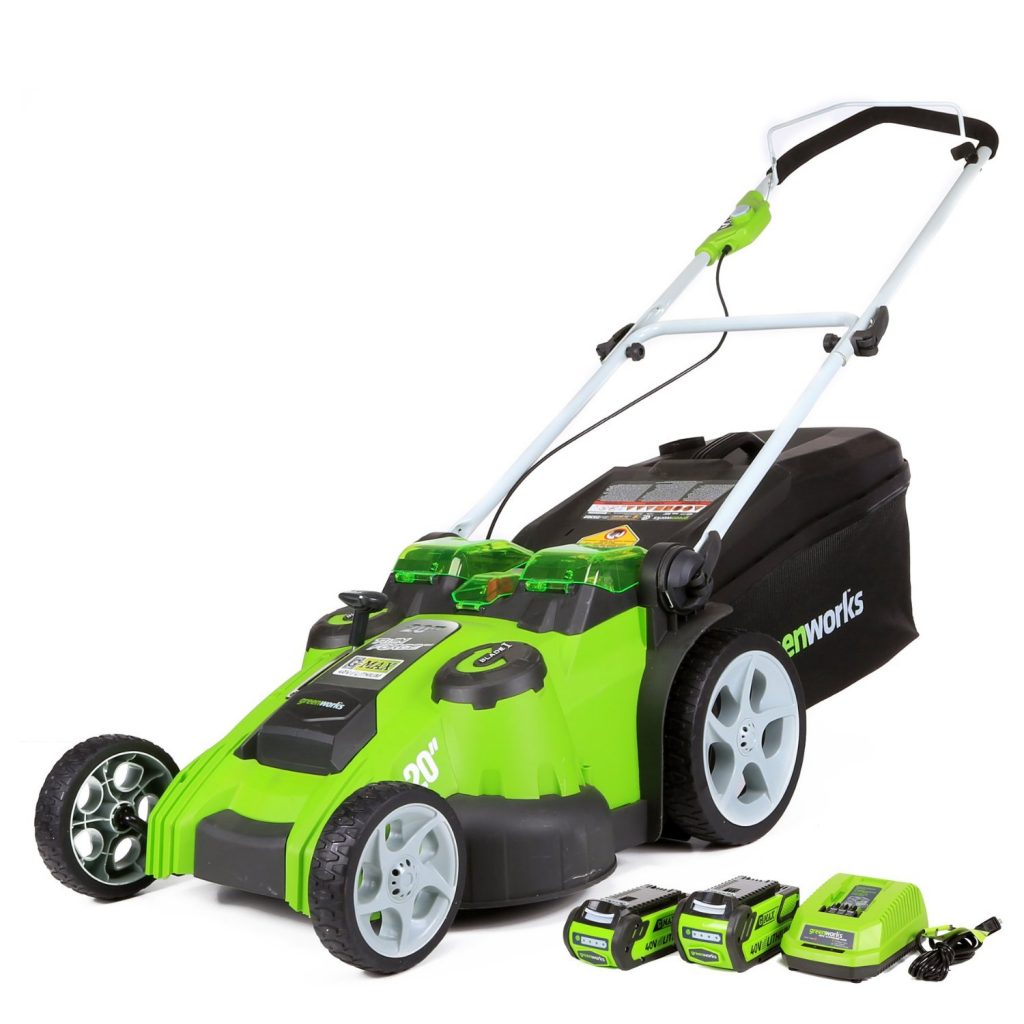 Super-lightweight, cheap and one of the few cordless GreenWorks Models that's available along with battery and charger! We saw above that the No.3 Ranked GreenWorks GLM801600 cordless mower doesn't come with a battery and charger, and offers more heavy-duty performance for medium-sized lawns. On the other hand, this GreenWorks 25302 cordless lawn mower is strictly meant for small urban lawns only.
This one sells like hot cakes for home-owners with small-sized lawns and limited storage space. Once charged, it'll breeze through your lawn with seamless gait and have it beautifully manicured in no time!
Why Buy the Greenworks 25302 Cordless Mower?
Exceptional Lithium Ion Battery for consistently long run time and freedom to charge/discharge as much as you want
Run time up to 90 minutes with Brilliant Smart Cut Technology that suitably modifies power and run-time based on grass thickness
Single-lever Height Adjustment from 1-3/8" to 3-3/8"
20" Cutting Deck with Dual Blades Functionality for Grass Clippings- Option to either mulch or bag and dispose
Visual Indicator for full rear bag so that you know when to empty
10"reat wheels, 7" front wheels and overall lightweight, foldable design for effortless mowing and storage
 <<< Click Here to Read My Full Review >>>
Quick Overview of My Test Results
---
Ok, so far my top 5 Bestselling Greenworks Lawn Mowers
Obviously I cannot list all Greenworks lawn mowers. There a lot more models for sale and I am sure you will find most of them listed in some other  TOP 5  at my website as they happen to be very reliable electric lawn mowers. Anyways, the above listed models are the best-selling ones of this moment, so I hope my Top 5 gives you some buying directions. If you would like to know all features of each model, just make your own comparison chart. Explanations on how to do this, you can find here.
As Always, Happy Mowing!