In my attempts to write electric lawn mower reviews, I came across many factors, but only a few mowers that had it all…. What information should  a good review offer you and how can you find out what is the best electric lawn mower for you? Is it a corded one with a long cord length or one with plenty of power? Maybe a cordless mower? What are the differences? Do electric lawn mowers have ability to mulch? Read on and you will find links to electric lawn mower reviews, articles, how-to's and much more here on top5lawnmowers.com – everything that I believe you need to purchase your perfect electric lawn mower.
By the way, there is a lot to tell you about electric lawn mowers, so I decided to split up the information. The rest of this page will be dedicated to corded electric mowers with its own TOP 5 Listing at the end of this page, while I expand on the cordless electric mowers on this page.
About Electric Lawn Mowers
When I first started researching on electric lawn mowers I expected to find information going back to the last decade at most. So, imagine my surprise when I discovered the first ever mention of a corded electric mower dating back to the 1930's!
Seems, much before the electric mower was commercialized, inventors have had a go at converting conventional power and garden tools from gasoline based engines to electric motor powered units. A farmer by the name of C.C. Stacy inadvertently discovered that electric motors could power a conventional mower. Unfortunately for him the blade design he used wasn't capable of cutting through grass and his invention sat gathering dust until half a century later. Finally, technology has progressed far enough to deliver sufficient power to rotate blades at speeds capable of making a clean slice across the stem of a plant. Today, electric mowers are more than just a novelty – they are the ideal family mower for small to mid-sized properties.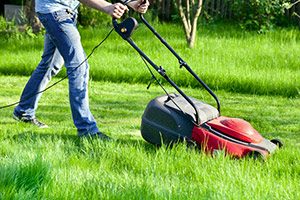 What Is the Best Electric Mower?
As you probably know electric mowers exist in two versions: corded and cordless mowers. Well, many times people ask me, " Bill, what is the best electric mower?" and I tell them this little story: Once upon a time there was…….just kidding folks.
To be honest there isn´t really a "best" electric mower, it all depends on what preferences you might have. In my humble opinion a corded mower has one BIG plus and that´s your mower will never ever lose its efficiency as the mower stays connected to its power source while mowing (your electricity supply). You will never find yourself stuck because the lawn mower's batteries ran out, leaving you with a half manicured yard. On the other hand, you do have to handle the cord and the lawn mower at the same time and avoid running over it. Personally, I do not mind taking care of the cord as I mow, but not everybody feels comfortable with it.
A cordless mower too has its positives, such as complete freedom to go wherever you want to mow without the handicap of a fixed line, as there is none. And if you plan your cutting tasks a little ahead of time, you can fully charge the battery to assure you at least have 30 minutes of power. Very clever people buy an extra set of batteries and then laugh at those who didn´t think of that and ended up with a half finished lawn. (believe me, that only happens to you once…..)
Corded vs. Cordless Mowers
Well, to cut a long story short, here´s a quick overview of what could be the best electric lawn mower for you. Although I personally like corded mowers better, I won't dare telling you what to buy though, you might as well decide for yourself!
Corded Mowers
PROS:
Constant power supply
Power density stays constant during mowing
As long as mower is plugged in, the machine mows evenly
No batteries, no additional replacement costs
Less noise pollution
No localized emissions
CONS:
Limited freedom to move around as the mower is connected to a cord
While mowing you have to take care of the mower and the cord
Possibility of running over the cord
Most cords are too short to cover complete garden
Extra cost for extension cord
Cordless Mowers
PROS:
No cord to take care of while mowing
Hassle free manouver
No risk of accidentally trudging over the cord
Eco-friendly
As silent as they come
CONS:
You have to charge the battery before mowing
Limited cutting time
Extra costs for replacement batteries (some brands include an extra one)
If your battery runs out, bad luck!
Battery loses density power during mowing
Tips on How Not to Run over the Cord…
While on paper an electric mower sounds enticing and frankly easier to handle as opposed to a gas mower, one of its biggest cons is the cord. Not knowing how to manage the cord and keep it away from the front of the mower will lead to accidents ranging from snapping the cable, power surge in the motor to your own electrocution! So, here's a quick look at cord management for your new electric mower.
1
Pick an Extension Cord Designed for Lawn MowersYou may not know this but there are extension cords specifically designed for lawn mowers. Unlike typical extension cords these don't come with multiple sockets, rather just a single socket and are coated with toughened polymer, fitted with thick wires capable of handling heavy duty load. Such cords don't easily get entangled either making them easier to mow with.
2
Match the Amp of the Mower with the Extension CordExtension cords come with a gauge number. The rule to remember here is, lower the gauge of the cord, greater is the power it can handle. Typically, electric mowers draw between 6 to 12 Amps, you should buy a cord that matches with the power requirements of your mower to prevent overheating of the cord and internal damage.
3
Start From the Point Closest to the Power OutletAlways begin mowing your lawn from the point closest to the power socket powering your mower. This ensures that the cord extends behind the mower as you move away rather than falling in front of it.
4
Use Handle Clips to Elevate the CordTypically mowers come with one or two handle clips that hold the cord elevated and away from the motor. If you feel the need to add in more clips, do so to prevent the cord from ever coming close to the deck or the motor. Position the clips such that the cord falls away behind you and from the height of the handle.
5
Leave a Small Pool Behind You With Your Free HandHold a small pool of cord behind you in your free hand that can freely extend forward as the mower moves ahead. This helps untangle the cord much before it is needed by the mower and also keeps the cord raised above the deck at all times.
6
Do Not Revisit a Patch Without Clearing the Wires FirstEventually you will find a few patches improperly mowed the first time around. Refrain from immediately mowing over these areas until you have completed one entire round of your lawn. Shut down the mower, collect the cord and then restart, visiting those patches that need a second approach.
What to Look for in Electric Lawn Mower Reviews
In my months of researching, trying out multiple electric corded mowers, I was trying to zero in on factors that mattered the most. Something I realized early on is that manufacturers already knew the ingredients to bake the best electric mower recipe. So what stops them from producing the best mowers? Economics! More precisely, the economics of demand and supply.
Unlike gas mowers that are the de facto investment and hence garner a greater demand,  the electric mower's market is more concentrated and segregated to family homes, folks who have a desire to go green and such. This lack of 'high enough' demand is why the market is flooded with hundreds of models from every brand that excels in some areas, but flops in others, all in the name of being affordable. Why am I explaining all this? Because in my research I finally came across the magic formula that helped me compile my personal TOP 5 best electric lawn mower reviews. Like I said before, it is actually a combination of many things, but most important of all, it is the ultimate user experience and since family homes are the target audience for electric mowers, I decided to reduce the stringency of criteria in my electric lawn mower reviews to the following few.
Ease of Use
Forget everything else about a mower, with electric corded mowers, ease of use depends entirely on two things – the cord length and the ability of the mower to avoid the cord! Weight, maneuverability, handle height adjustment – all these ergonomic factors are almost always present in corded mowers because they happen to miss a massive engine eating up space, weight and unbalancing the mower. What truly matters is whether you can keep the cord untangled at all times and if it is long enough for your lawn. Only then do other things factor in.
Height Adjustment
How many height positions are on offer? Moreover, I found that unlike gasoline mowers, electric variants are mostly plastic. If the height adjustment lever and mechanism is plastic, one has to be really careful not to damage it accidentally. The next feature to look for is whether the lever controls all wheel heights simultaneously or are there individual controls for each.
Motor Power
Along with the size of the deck and blade arrangement, the motor power plays an important role. With electric corded mowers, it is measured in terms of maximum current or Amperes. Greater the Amp, more is the power and thus greater the RPM (speed) of the blades. Remember that more RPM ensures less resistance against grass, debris, small roots and stems.
Cut Quality
With gasoline and cordless mowers, the cut quality can vary. As a cordless loses charge, its cut quality deteriorates. Because of the vibrations in a gas mower, the cut is more serrated than smooth. With electric corded mowers, the lack of engine vibration, loss of charge all ensures a perfect cut all the time. Question only remains therefore is whether it achieves the same quality regardless of the cut height and the life of the mower.
Maintenance
Electric mowers typically need no maintenance other than annual sharpening of the blades, spraying of non-stick oil inside the deck and occasional replacement of the blunt blades.
Nevertheless, to cut costs most brands do use inferior quality components in their electric models, which eventually need repair. Hence, the warranty matters a lot with electric mowers, which is another thing I scrutinize here.
Cost Effectiveness
Some brands tend to sell their units cheaper than others while others ride on the goodwill in the market. I try to justify the price tag set on every electric mower against its feature set, warranty and performance letting you know for sure if it is worth the price or if you should wait for a discount on it. En general, in cordless mowers, the higher its price, the better its battery quality.
TOP 5 Corded Electric Lawn Mower Reviews

The Top 5 below is dedicated to the most powerful corded electric mowers. If you like to check out cordless models, please click here. Finally, I have tested every mower on this website, so make sure to click on the links to read my detailed electric lawn mower reviews to see how each of them performs.
Here's my favourite TOP 5 Corded Electric Lawn Mowers of 2016!
Last Tip: If You Have Tough Grass
By the way, if you think you have tough grass in your lawn, you´d better not go for an electric mower, you will need the extra power of the gold old gas mower or you might ending up regretting your electric mower purchase. And if you aren´t fit enough to push the mower all by yourself, a self-propelled mower might be a better option. They come in gas ánd electric versions!
Please notice that electric mowers, either corded or cordless ones, aren´t suitable for all types of yards. Check out here what lawn mower you should buy. And before leaving this page: Don´t forget to take a look at the best cordless electric mowers as well.
Just a Little Bit of Your Time Please?
If you find my page on electric lawn mower reviews insightful and useful, please share it with others and leave a comment to ask questions, report errors or design bugs and even suggest ideas. Thanks for helping out!