In-Depth Review of the Husqvarna HU700H, 961450023, 22 inch Rear Engine Mower
Founded in 1689, Swedish Company Husqvarna has an illustrious track-record of manufacturing cutting-edge outdoor power equipment. In the domain of self-propelled mowers for urban home-owners today, the Husqvarna HU700H (961450023) 22 inch rear wheel drive mower is extremely popular for its durability, power and world-class performance. Its steel deck is powder-coated for maximum resistance, and offers the triple functionality of bagging, mulching or side-discharge. With the aid of the 8" and 11" ball-bearing wheels and single-lever deck height adjustment, you'll be enthralled at how easy it is to maintain a beautiful lawn! Also, if you're very particular about opting for an all-wheel drive model, the Husqvarna 96145 0011 All Wheel Drive Auto Walker Mower is the ideal pick. It costs about a hundred bucks more, but provides you all the fantastic features of the Husqvarna 961450023 Rear Wheel Drive Mower, coupled with ability to handle the toughest terrains, as expected from a mower that provides equal balance and power to all 4 wheels!
---

Last update was on: December 9, 2023 2:57 am
Honda gcv160 160cc 4-cycle OHV engine powerful and easy starting
22-Inch, 3-in-1 steel mower deck that gives you the option to side discharge, mulch or bag your grass
Auto walk self-propelled rear wheel drive system that let's you control the pace of your mowing
Ball bearing wheels 8-inch front and 11-inch rear wheels that provides improved maneuverability in all types of grass
3-Position adjustable handle - just set the handle height to a level that's comfortable for you
---
Ease of Use
A self-propelled machine that comes almost fully assembled, the Husqvarna HU700H, 22 inch rear wheel drive mower has several ergonomic features like an easy start, 3-position adjustable handle and smoothly maneuverable wheels. All the more, you can mow at your own desired pace, thanks to the Auto Walk Self Propelled Rear Wheel Drive System. Trust me, this feature comes in really handy if you've been using a push mower or reel mower all along. Check Out this Instruction Video.

Getting used to a self-propelled one takes some time, and this is the best model to get started with. However, there are two glitches that I'd like to talk about. First is that this mower is on the bulkier side, weighed about 100 pounds. So taking it off the packaging crate to your yard the first time is a bit strenuous. But, once the engine starts running, the weight doesn't really matter much! And the second glitch has to do with slopes. If you know anything about self-propelled mowers, you're probably aware that a rear drive model is easy to start and maneuver around obstacles, but taking on slopes does not come with the same ease as that of a front-drive or all-drive model. And lest I forget, yet another positive attribute is that despite being bulky, the dimensions of this mower are 36 x 25 x 20 inches only; so a small shed suffices to tuck it away safely after use!
---
Cut Quality
With its 22 inch steel cutting deck and 3-in-1 functionality, this Husqvarna rear-drive mower tends to your grass like an absolute pro! Despite cutting with a single blade, there is absolutely no stalling or struggling over dense patches. The only time you might need a double pass is when the grass is wet or has grown way beyond 7 to 8 inches! I'm also pleased with the mulching functionality, as the mulch is as fine as required, and the discharge does not leave behind any clumps. Even if you're not keen on mulching, you can easily attach as well as detach the grass clippings bag for hassle-free disposal. Also, the 8" front and 11"back wheels are equipped with ball-bearings for extra-smooth movement, and there's no harmful trampling of grass whatsoever.
---
Height Adjustment
In terms of varying cutting heights, the Husqvarna HU700H self-propelled lawn mower wins hand-on over most of its competitors. Firstly it has a single-lever system instead of a dual-lever one, making it way easier. Secondly, you have 9 positions between 1 to 4 inches to choose from. So you can take a call on exactly how deep you want to cut the grass so that it remains healthy, without looking unkempt!
---
Motor Power
The Husqvarna 961450023 HU700H model works with the aid of a Honda GVC160 engine. This is in fact, a superior 160cc 4-stroke OHV engine, and has an automatic choke for a quick and efficient start. Power-wise, there have been no issues with this mower, thereby making it the right choice for widespread lawns. In case of electric mowers, notching up the speed of wheels immediately reduces the power supply to the blades. But with this roust gas mower, the cutting deck remains fully-powered and up for all kinds of grass, despite running on full speed!
---
Maintenance
As is the case with most other self-propelled mowers from competing brands, the Husqvarna HU700H (961450023) 22 inch rear wheel drive mower comes with a 3 years limited warranty. Now washing the deck is not very complicated, given the availability of the deck-washout port. Maintaining the other parts like the drive-train, gearbox, blades and winterization of the engine is not unique, and fairly common to all gas mowers. The overall build of this machine is solid steel, but the plastic front axle sticks out like a sore thumb. I was teaching my son how to use a self-propelled mower, and he accidentally sent it dashing towards a tree. Everything else (including the blade) was fine but the front axle broke, and I had to call in a technician for replacement. Had it not been under warranty, it would have cost me a hefty sum!
---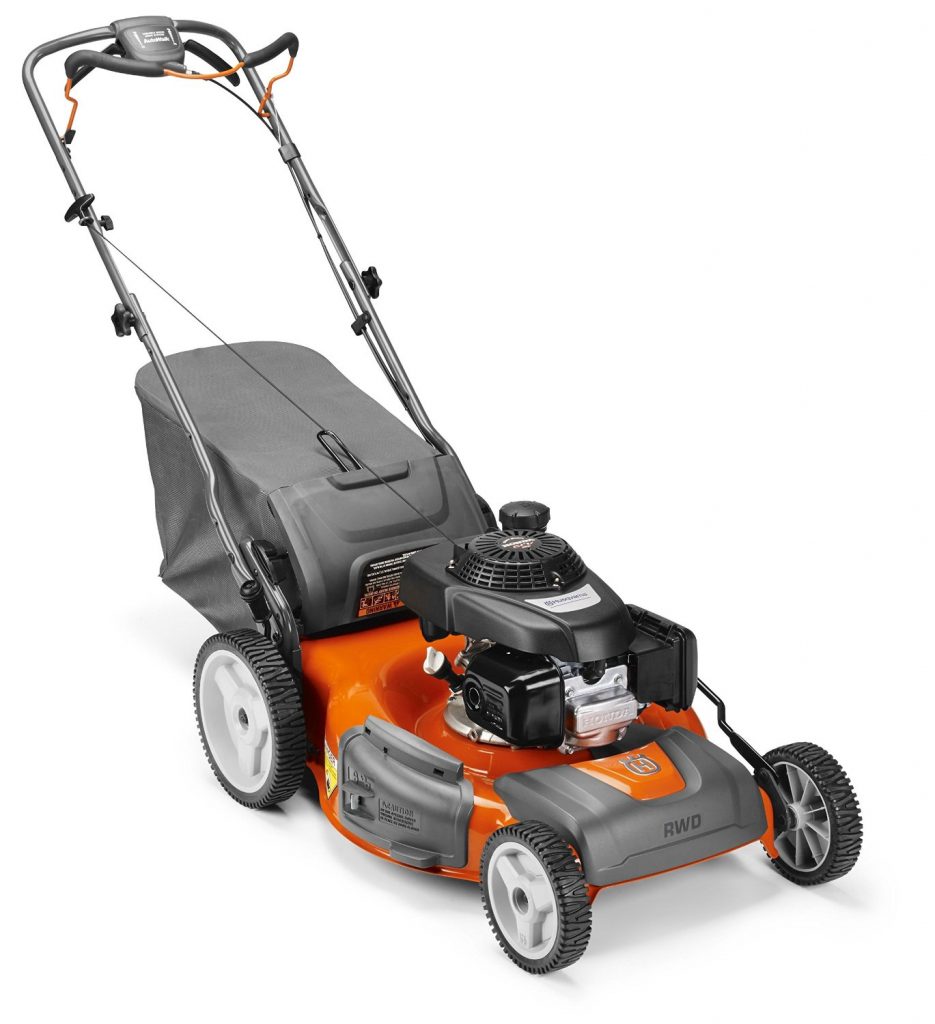 ---
Cost Effectiveness
Now this self-driven 21 inch rear wheel drive mower from Husqvarna is undoubtedly priced towards the higher side, as compared to its competitors from other brands that offer a similar set of features. But it has the goods to make up for it, in terms of performance, durability, excellent cutting and mulching abilities and an overall reliable engine. A bottle of engine oil is included with the machine, and the replacement air filter and blade are available on Walmart at nominal prices. If affordability is not as issue with you, I would urge you to spend a hundred bucks more and opt for the All-Drive Husqvarna 96145 0011 Model. Otherwise, this Rear-Drive Model is great for tough-to-mow grass and uneven turf.
---
Robust and Ergonomic Self-Driven Mower
A mighty combination of efficiency and ergonomics, the Husqvarna 961450023 21 inch Rear Wheel Drive Mower is a mowing marvel for sure! Thanks to the advanced Honda engine and user-friendly design, this self-propelled mower eliminates the need to put in tons of effort while mowing your lawn, especially if it poses too many challenges in terms of terrain, obstacles, sloping etc, or measures between half to one acre.
PROS
Robust Performance, versatile
Mulch, Bag and Side-Discharge Options
Good Overall Cut Quality
9 Height Settings
CONS
Bulky
Priced higher vis-à-vis its counterparts
General Info
Features
Height Settings
Motor Info
Buyer Guarantee