We all want a good deal, especially on lawn tractors as they are expensive machines. But, don't get too carried away looking for the best lawn tractors sale and get some basic information first. You just might need no tractor at all! So, what is a lawn tractor? The name can be a bit confusing, but rest assured these are extra-sized lawn mowers to ride-on meant for  trimming your lawn. Expensive and yet the most versatile and powerful among all mowers, lawn tractors are designed to be ridden with ease. I help you decide on whether you need one of these powerful machines and then I present you some great tractors in my top 5 best lawn tractor reviews. Thanks again for visiting top5lawnmowers.com!
Top 5 Lawn Tractors Sale Opportunities
Lawn tractors do not feature amongst the most expensive riding lawn mowers, in fact usually zero turn mowers are more expensive. Ofcourse those offer super amneuverability, but if you have a medium larg yard, lawn tractors also do have a lot to offer. Here is my current TOP 5. Have a look around and grap your own lawn tractors sale!
---
What is a Lawn Tractor?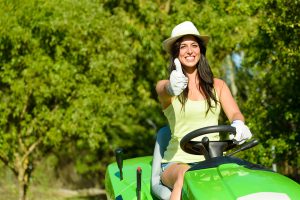 A lawn tractor is a type of riding mower that either has the engine to the front or the back with the rider sitting somewhere near the middle or rear with all the controls situated in close proximity. Consider these to be more domesticated versions of full-fledged tractors commonly seen on farms. Unlike their larger siblings though, they do not grow more than a couple of meters long.
These mowers are usually powered by larger 16HP or more engines, come with a mowing deck ranging between 45 and 59 inches and the ability to side discharge, mulch or rear bag. Some tractor mowers can also be fitted with additional accessories to till, tow and clear snow.
Most tractor mowers are rear wheel driven with a gearbox and hydrostatic clutch. To drive one of these beasts you simply push the brake/clutch pedal and choose the appropriate gear, select a speed with the speed lever and give directions using a steering wheel. The mower does the rest on its own. You do not need to know how to drive a car nor do you need practice changing gears because a lawn tractor is designed to be user-friendly and easy.
Remember, a lawn tractor because of its huge deck size is suitable to large yards or lawns measuring more than 1 acre in size. Moreover, unlike Zero Turn Mowers, they can handle slopes and inclines better without losing traction. In fact, if your property does not have many obstacles, but is riddled with slopes, uneven terrain and a large expanse of grass cover, you need a lawn tractor. So, time to check out the lawn tractors sale below.
Lawn Tractors Sale – Available Features  
Blade Engagement/Disengagement Switch
The engine on a lawn tractor is massive and as such delivers maximum of its power to the wheels. Using an engagement switch, it can drop the blades down on the turf and also raise it. This ensures you don't accidentally eat through to the turf.
Clutch or Brake Pedal
Usually you only have to deal with a single pedal that controls both the clutch and the brakes. This dual purpose pedal helps change gears and also slows down the mower by engaging the clutch and applying a bit of the brakes evenly to all wheels.
Throttle Stick
Usually present to either side of the driver's seat, the throttle lever helps maintain a particular speed in the chosen gear ratio. This eliminates the need to constantly maintain speeds and hence helps you concentrate on the grass ahead.
Deck Height Lever
Found beneath the seat to either side, this helps choose an appropriate deck height.
Additional Attachments
From rear collection bags, side discharge bins to rear tills and tows, lawn tractors can take on multiple accessories without feeling the pinch. For those who dabble in more than just lawn mowing, these tiny tractors are a powerful multi-purpose landscaping machine.
Why Buy A Lawn Tractor?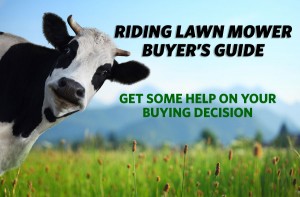 Not everyone needs a lawn tractor. If you have a yard smaller than 1 acre, a lawn tractor is simply overkill. Other than time, you really don't save on anything else. However, if your lawn is massive a lawn tractor will not just save you time and energy, but also money in the short & long run. Large lawns need a lot of regular maintenance and with a lawn tractor this takes only a few minutes rather than hours. To help you decide whether you need a lawn tractor or not, here are the pros and cons of owning one. Make sure you read all criteria well before heading over to the lawn tractor comparison chart and reviews.
PROS:
Quick And Efficient – Lawn tractors can reach speeds of up to 7-10 mph, which makes them the fastest mowers. If your, more than an acre, lawn previously took hours to finishing mowing, a tractor will do it in a fraction of that time. Best of all, the deck height remains constant over slopes, uneven surface so you won't ever have to go for a second attempt.
Easy To Drive – The features on a lawn tractor make it easy to control. A simple steering wheel for direction, gear and speed lever to choose an appropriate speed with deck height controls right next to the seat all make riding a lawn tractor child's play.
Versatile – Finished mowing? Did you know that lawn tractors can be manipulated to do much more? Add a tilling instrument to the back and you can start organic farming in your large yard. On the other hand, if mowing is all you want, you can decide whether to collect clippings in a rear bag or mulch for natural fertilizing of the soil.
CONS:
Expensive – Lawn tractors are among the most expensive of all mowers. Smaller units with less powerful engines can cost $1000 while the most expensive 4WD larger machines come for at least $2500. Add to this the cost of maintenance over the years and you can get a clear picture of the total cost of owning a lawn tractor.
Big, Bulky And Noisy – Lawn tractors use massive engines that run naked under the hood. Unlike cars that are designed to muffle the noise, tractors don't and so are noisy. If you stay in an urban neighborhood, a tractor can be irritating to fellow homeowners. Moreover, they are huge and need to be stored in a shed when not in use, which necessitates the making of a storage shed.
Difficult To Repair – With technological leaps, the modern day lawn tractor has lots of unique components that vary with the manufacturer. If something goes wrong, chances are your local mechanic won't be able to fix it. Calling in the pros takes time and money.
Differences Between The Lawn Tractor And Other Types Of Riding Mowers
A lawn tractor is a subset of the larger category of riding mowers. Riding mowers for domestic purpose usually come in three variations namely, rear type, lawn tractor and Zero Turn. Both the Zero Turn and rear type tractor have their engine, and hence maximum of the weight distributed, towards the rear, usually with a 75-25 weight ratio. This makes them rear heavy and hence more suited to plain terrains with hardly any inclinations. On the other hand lawn tractors keep the engine at the front with a more balanced weight distribution, thus giving them better overall maneuverability.
Rear tractors are small, usually suited to lawns between 2/3 and 1 acre while Z-mowers are only suitable for flat terrains with/without lots of obstacles or trees. Lawn Tractors coupled with a smaller walk-behind mower can take care of all lawn sizes including those with obstacles.
To help you understand the differences better, here's a small chart of all three and their capabilities.
Lawn Tractor
Rear Mount
Zero Turn
Engine Size
16HP to 24HP
8HP to 12HP
8HP to 18HP
Deck Size
45" to 60"
29" to 45"
34" to 45"
Slope Handling
Yes, up to 40 degrees
No
Yes, up to 10 degrees
Turn Radius
Largest
Small
Zero
Ideal For Yard Size
1 Acre And More
½ to 1 Acre
1 Acre to 2 Acre
Ease Of Use
Easy
Easiest
Needs Practice
Attachments
Tow, Till, Snow Blower,
Rear bags
Only rear bags and
Side discharge bags
Tow, rear bags
Price
$$ – $$$$
$$ – $$$
$$$ – $$$$
What Is The Best Lawn Tractor?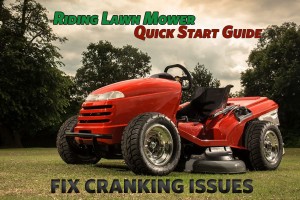 Is it power that makes a lawn tractor the best or does the deck size, ease-of-use matter more? In my experience, it usually is a combination of many things, but unlike other mowers, because of the price you pay to own one of these beasts, the foremost consideration is the dependability of the mower. It can be the easiest to drive, handle maximum number of attachments and feel like a dream machine but if it gives up in a couple of years, that's thousands of dollars down the drain.
Here's a closer look at the criteria I use to rate lawn tractor reviews so you'll know what to look during your lawn tractors sale activity.  
Ease Of Use
How long does it take to get used to the controls of the lawn tractor? Are the controls conveniently situated close to the seat or do you have to lean forward, fiddle under the seat to reach them? How easy are the instructions to understand and what about first time start-up? Is driving the tractor simple or complicated?
Cut Quality
Will the deck lower and raise itself entirely or can you also control the height of the blades? How close will it scrape the surface before inundating the ground? Can you strip your lawn with beautiful designs in the lawn tractor?
Height Adjustment
Does the deck height lower in fixed numbers or can it be fine-tuned for slopes and inclinations? How about engaging and disengaging the blades? Are these two functions one and the same or do they have individual controls/switches.
Motor Power
What brand of engine does the tractor rely on and what is the total output. Is it large enough for the deck size and how does it behave after a year or so of regular use and the first winterization?
Maintenance
Do you always need a service rep from the manufacturer to maintain and repair the tractor or can your local mechanic take a look without voiding the warranty? How long does it take the company to respond to service pleas? What about on-going costs of repair and replacement, is it expensive to own in the long run?
Cost Effectiveness
A lawn tractor is obviously an expensive investment so if it turns out to cost twice as much in three to five years then it does not qualify as a viable long term investment. I outline to total cost of ownership plus possible extra expenditures on accessories and what return on investment it may provide.
Share Your Knowledge with Us!
Know of an excellent lawn tractors sale going on? Or maybe you have a suggestion for me? Drop me a message using the comment section below and get in touch. Also, it would mean the world to me if you would share this page with your family and friends, thanks!