If you need a lawn mower quick start guide for walk behinds, you have arrived at the right place. I want new users of these mowers to know how to get up and mowing in no time at all. Plus I will point out a few tips for folks who already own a walk behind mower. If you are a new user, congratulations on your mower purchase. I for one, consider lawn tools to be my "toys" that enable me to make my property more appealing to myself and the outside world. If you are an experienced lawn mower user, I think I can still make your lawn life a bit easier when it comes to cutting that lush lawn you are so proud of!
Haven't yet purchased a walk-behind mower? Or still searching for the perfect garden companion? Let me help you decide better.
See my Walk Behind Lawn Mowers Buyer's Guide….
Top Rated Walk Behinds
Keep the Mower Manual Close
If you have just bought a small push type mower for your own lawn, you likely only have a small patch of grass to mow. That is fine and this machine will take care of the task. I do suggest reading the owner's manual before starting up. I have a problem doing that myself as I try to get right to work once I buy a new toy, I mean tool. Believe it or not, there is a lot of helpful info in a manual. You don't have to study it like a textbook, but a quick read will help you get the most out of your new lawn mower. Besides, when you have to troubleshoot after a year or so, the manual often holds invaluable information.
Did you lose your manual? Not to worry, you can get a free copy of most manuals (Click HERE) or you can try emailing the manufacturer of your mower.
First And Foremost Rule Of Mowing – Safe Mowing!
A lawn mower quick start guide would not be complete without a reference to safety. You need to wear safety glasses and preferably long pants when mowing, this may sound clichéd but before you jump to conclusions, google mowing accidents and you will understand why glasses and long pants matter!
You also need to know where the safety switches are on your new mower. All push type lawn mowers have some type of handle that requires the operator, that's you, to keep your hands on the handle in order to keep the machine running. This safety device's purpose is to kill the engine along with the spinning blade, should your hands come off the mower handle in the event of a fall or accidental trip. Saving your foot or other body part is pretty important and that is why safety switches exist. Never try and disable them in order to save time.
When You Have To Use The Pull Cord
Most smaller walk behind mowers will require you to use a pull cord to crank them up. As long as you maintain your engine properly, pulling this cord to crank the machine will be easy. One or two pulls should do it. If you let the air filter become dirty or fail to replace a spark plug on time, you will find the cranking process to be no fun. Maintain your mower so that it never fails to maintain your turf when you are ready to do so. When to replace spark plugs, clean filters are information readily available in your mower manual, please refer to it.
Easing Your Mower Out Of Slumber
If your mower has a primer bubble, use it. It gets a bit more fuel to the engine faster in order to start the motor instantly. Pay attention to how the choke works as well. All machines have a personality of their own. One mower might need to be choked each time you start it during a day, while another of the same model may only need the choke set when you start it for the first time each day.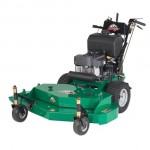 I don't want to leave out any experienced owners of bigger walk behind mowers. You are likely doing some lawn care for profit if you have a big mower with a deck over 30 inches in width. The same principles apply from above. Safety is important as well as maintaining the mower to get max results. Maintenance is even more important when you are making money with your lawn mower. You don't want ten or twenty clients calling you to see why you have not cut their lawn! A little maintenance goes a long way.
You may not have to worry about a pull cord cranking method with some bigger walk behinds. If your mower is an electric start you will need to make sure and change out the battery once it appears to be weakening. Turning a key is much easier than a pull cord, but a dead battery can stop your workday in an instant.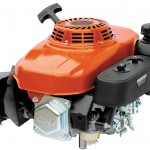 This lawn mower quick start guide would not be complete without mentioning possible problems while starting the engine. The most common problem with cranking is the safety switch being tripped. Hold the handle on smaller machines to make it possible to crank up. On larger commercial walk behinds, make sure the blades are not engaged either. Having the blades spinning as the motor turns over during cranking is a bad idea, not only because it is a safety hazard but also because it puts undue strain on the cold engine. So hold any safety handle switches and disengage the blades when cranking your walk behind mower. Be sure there is nothing under the mower deck that could cause an issue either, once you do engage the blades. That means stumps, rocks, roots, and that napkin from Burger King you dropped, which will disintegrate into 7,321 pieces along with the blades!
Oh! And Did You Fill Up the Gas?
That about wraps this quick start mower guide up. Before I close, I want to make it clear that fuel is very important to a lawn mower. Ethanol laced gasoline is a big problem for engines if it just sits in a machine for too long. If you know your mower is going to sit idle for a month or so, you need to use a fuel stabilizer. Or better yet, buy gas with no ethanol in it. This option is increasingly available.
And if you happen to own an electric mower, be it cordless or corded, make sure its plugged in and the batteries are charged before you decide it is more of an engine issue. You will be pleasantly surprised to learn of how many times I hear folks complain of a dead engine only to realize the battery is drained or the tank's out of gas!
]I hope that helps you get mowing a bit faster. I believe this guide will help you avoid some simple issues that can hold you up. If you have any problems with your mower not listed here, just email me. I will get back to you….as soon as I get my lawn cut!
Some Great Suggestions
Husqvarna Husqvarna 7021P 21-Inch 160cc Honda GCV160 Gas Powered 3-N-1 Push Lawn Mower…
$323.69
GreenWorks GreenWorks 25022 12 Amp Corded 20-Inch Lawn Mower
Fiskars Fiskars Staysharp Max Reel Mower, 18-Inch
Last updated on October 10, 2018 10:08 am GMT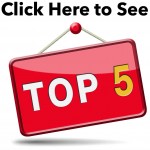 Haven't yet purchased your walk behind mower or want a new one? Stuck deciding which mower to get? Read my Walk Behind Lawn Mowers Buyer's Guide designed specifically to help you decide on the right type of push mower.