While most people love a lawn adorning their house, maintaining it can sometimes become a millstone around the neck. While a lawn mower is an obvious investment with landscaping, the less obvious accessories do help achieve those last trickles of perfection.The latest addition to my list of handy tools, I proudly present to you – the Black & Decker Cordless Hedge Trimmer LHT2220. The biggest advantage of this machine is its cordless nature, backed with a 20 volt lithium ion battery. Lithium ion batteries are so much more beneficial, especially in handy tools. Furthermore, the LHT2220 trimmer is convenient to use, comfortable and ergonomically designed, as a result snipping away branches, pruning the hedge top and shaping your lawn feels like second nature.
Product Info:
Lawn & Garden Tool
Hedge Trimmer
20V MAX lithium ion battery
Features:
Lightweight: 5.9 lbs
Available with and without battery
2-years warranty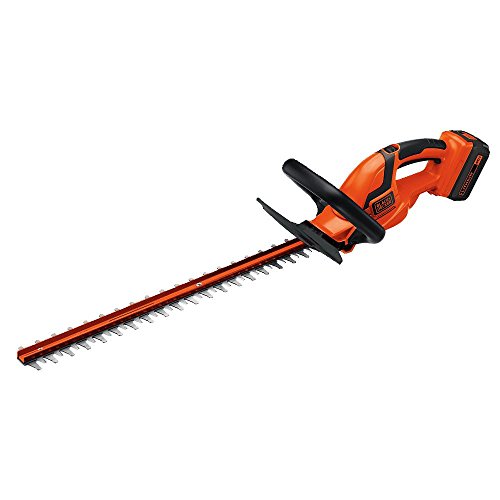 BLACK+DECKER 40V MAX Cordless Hedge Trimmer, 24-Inch (LHT2436)
8 new from $112.96
12 used from $76.82
Free shipping
as of December 8, 2023 10:58 pm
Features
Powerful 40V Lithium Ion battery of the cordless hedge trimmer delivers power and run-time to complete the toughest jobs
24 inch dual-action blades of the battery powered hedge trimmer cut branches fast with less vibration
Trimmers for plants have extended reach blades with a 3/4 inch cut capacity trim more in less time
Up to 6000 sq ft of actual hedges trimmed per charge
Wrap-around front handle provides comfort and control in vertical and horizontal trimming application
---
In-Depth Review of the Black & Decker LHT2220 Cordless Hedge Trimmer
What I Think about the B&D LHT2220 Hedge Trimmer
I have been using this Black and Decker tool for almost four and a half weeks now and I can vouch for its raw performance. To begin with, this cordless trimmer is immensely light weight, hence carrying it around or using it for a long stretch of time is not taxing at all. Secondly, a powerful 20V lithium ion battery gives it portability without affecting the running time. Surprisingly long battery life allows the trimmer to vertical cut, edge trim, etc. with only a single charge. Thus, you can work without any trouble till you are content with the look of your lawn. This Black and Decker Cordless Hedge Trimmer claims having been tested to trim up to 3000 square feet per charge and honestly, with its commendable battery life I do not quite doubt it, although I do not test this amount of square feet myself.

As the name suggests, the LHT2220 hedge trimmer specializes in trimming bushes. The ergonomic wrap-around front handle is a boon to this hedger, since it provides excellent grip in multiple positions aiding in easy maneuvering of the tool. All you need to do is put in the batteries, pull the trigger to start the machine and go around chopping all overgrown shrubs and bushes. It is exactly as simple as it sounds. To make it simpler, the button has locking position so that you do not have to constantly hold down the button till your thumb turns sore. Simultaneously pressing the hand grip and the top button of the trimmer, sets the trimmer in its locking position until you release it manually by pressing the button again. Along with being a safety mechanism this makes using the hedger easier as well.The 22 inch long dual blades give perfectly precise finishing with 40 per cent less vibrations, implying that at the end of the task you are probably 40 per cent less fatigued. Additionally, the sharp blades can cut branches up to ¾ inches in thickness or even thicker ones with ease and perfection. Hence, whether the bushes are tall, dense or disproportionately overgrown getting the look that one desires is quite achievable with this Black & Decker Hedger.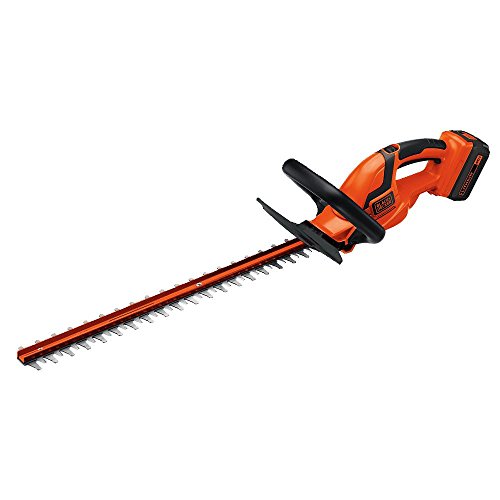 $

118.14

$149.00
12 used from $76.82
8 new from $112.96
in stock

---
PROS:
Cordless and battery operated
Long Battery Life, can trim almost 3000 square feet of actual hedges in one single charge
Lightweight
Can cut branches with thickness up to ¾ inches with ease
Ergonomic design
40 per cent less vibrations
Dual action blades measuring 22 inches
CONS:
When bought with battery, it comes with only one set of batteries. Depending on your usage you may want to keep an extra set of batteries in hand
Performance Orientated Hedge Trimmer
I, personally, prefer cordless mowers and trimmers to electric ones, because constantly carrying around extension cords, winding and unwinding the cord reels can be really bothersome, especially when I strive to scape a large courtyard. The Black & Decker cordless hedge trimmer LHT2220 is highly performance oriented, easy to use and loaded with exceptional features not limited to long battery life, sharp 22 inch dual blades, and strong gripped front handle. I recommend this tool, to both pros and novices, as a must-have among your top five essential home equipment. Happy landscaping folks!