Weighing in at just 14 pounds, the Makita UC4030A also happens to be one of the best electric chainsaws with a 16 inch bar. It is a lethal combination of less weight with more power packed into a compact design. A large trigger switch and a soft start for smoother start-ups helps feel safer cutting through wood, like a knife through hot butter. As for comfort, it packs in rubberized grip handles, an automated chain oiler with a large see-through oil reservoir.If you haven't yet added a chainsaw to your collection of garden tools, order the UC4030A electric saw today before Makita fails to meet demands. (currently the 14th hottest product under the Mower & Outdoor Power Tools category on Amazon!)
Product Info:
Lawn & Garden Tool
Electric Chainsaw
Electric motor pumps out a peak 15 Amp current
Features:
Adjust blade and chain tension easily with the One-touch tool-less system
Ergonomic rubberized grip handles
Chain speed rated at 2,600 RPM
Weight: 13.9 pounds
1 Year warranty and 30 day satisfaction guarantee from Makita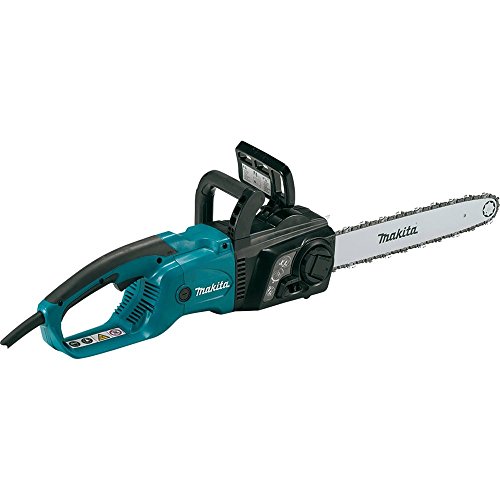 Makita UC4051A 16" Electric Chain Saw
in stock
as of December 8, 2023 6:58 pm
Features
"Tool-less" blade and chain adjustments for convenient operation and easy maintenance
Rubberized grip handles are ergonomically designed for comfort
Large trigger switch with soft start for smooth start-ups
Built-in current limiter helps protect motor from burnout by reducing power to motor when saw is overloaded
Large oil reservoir with view window allows operator to check bar oil level
---
In-depth Review of the Makita Electric Chainsaw UC4030A
Maybe this will clear up why I rate the Makita UC4030A as the best electric chainsaw. To use it, you have to out the bar/chain in, check oil levels, plug it in and pull the trigger. It really is that simple and because everything is designed to adjust on-the-fly, tightening the tension screw, adjusting the pitch and so on needs no tools at all. In the long run, I don't see any gas chainsaw lasting beyond this electric chainsaw. This is one mean saw.
It has been almost 2 months since I got this tool and the last cut is just as good as the first. I must have chopped through 50 or more logs in these couple of months ranging from 6 to 15 inches in diameter, without once feeling bothered. The moment I feel a little vibration, I turn the screw designated to tighten the chain and off I go cutting again. I even do away with a bush trimmer at times while pruning my garden trees if I happen to be using this chainsaw. It is light and you really won't feel your arms weighing you down after a few minutes raised reaching that odd branch or two. Oh! before I sign off, you must know, this Makita electric chainsaw comes from Germany and not from the far east as is mentioned by online retailers – another reason why I gave it the number one spot among the best electric chainsaw TOP 5.
My Take On The UC4030A Electric Saw 
---
PROS:
Really lightweight and no fuel hence no extra burden, an average build person can raise it high up without straining much
No fuel equals no flooding of the engine, no preparation time and absolutely no worrying leaks
16 inch bar with 2,500 RPM is more than ample to handle 10 inch to 12 inch thick logs
No overheating, plastic chain cover supplied along with the saw feels safe and sturdy
Top handle and trigger zone are ergonomically designed with finger mold and a large soft trigger button for safe starting
See through oil reservoir is thoughtful
CONS:
Being corded you are hampered by the cord length, buy a 10 gauge extension if you wish to increase coverage
Won't slice through thick tree trunks clean, beware of kickbacks if you are nearing the end of the saw
Remember to check if the oil reservoir is circulating oil to the chain and bar, few complains on defunct oil reservoir have come my way on forums
Stress-Free Acquisition!It is easy to get carried away with the debate on how gas trumps electric all the time where power tools are concerned, but this Makita garden tool definitely compels me to reconsider my position. I will be the first to say go gas if you can deal with the cons, but with a domestic chainsaw for your garden and patio needs, I don't think you really need to look farther than the Makita electric chainsaw UC4030A. A stress-free acquisition, that will last you ages, just keep it oiled and ready for action. And it isn´t just me saying this:  the saw is considered as one of the best electric chainsaws on the Market. Check it yourself!