Ideally suited for landscaping, the Black & Decker MTC220 12-Inch Lithium Cordless 3-in-1 is a trimmer, edger and a make-shift mower in a petite package. Suitable for yards less than 1,200 sq.feet, this compact lawn care Black & Decker tool helps tackle hard to reach areas and inclines. Besides, its size comes handy storing it in a small shed. The MTC220 is available in both the corded and cordless version with the later costing approximately $50 more.The cordless variant uses dual 20 Volt Li-ion batteries to extend its lifespan and help retain charge up to 5 times longer. These batteries also happen to be interchangeable with majority of MAX Black & Decker gardening tools. Sitting atop 4 wheels, this edger/trimmer has a 12 inch cutting swath and a foot pedal that quickly switches between either mode. You even get two height adjustment options with a single lever controlling all four wheels. Ergonomically designed, lightweight this trimmer features AFS or Auto Feed System that helps maintain a continuous straight line eliminating bumps and side brushes.
Product Info:
Lawn & Garden Tool
3-in-1 Trimmer/Edger/Mower
Corded or Cordless version
Features:
Cordless version uses 20V MAX Li-ion battery, two in tandem for improved battery life
Power Drive Transmission
Adjustable height deck & trimmer
Pivoting handle
2-years warranty
30 days risk free satisfaction guarantee assurance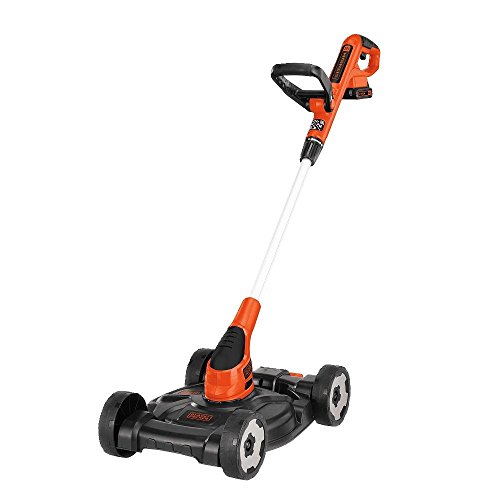 BLACK+DECKER MTC220 12-Inch 20V MAX Lithium Cordless 3-in-1 Trimmer/Edger and Mower
3 new from $159.99
11 used from $129.00
Free shipping
as of September 27, 2023 5:53 am
Features
3 tools in 1, easily converts from mower to trimmer to edger
AFS automatic feed system ensures continuous work without bumping and having to stop. Ideal property size 750 square feet
Power drive transmission prevents bogging down. Cutting heights: 1.6 2.4 inches
Adjustable height deck & trimmer and pivoting handle. Charge time at 60 percent 2.5 hours
Includes (2) batteries for extended run time
---
In-Depth Black & Decker MTC220 12-Inch Lithium Cordless 3-in-1 Trimmer Edger Mower Review
How to Use the Black & Decker MTC220
Being a multi-purpose garden care tool, the MTC220 can be used as a mower, edger and also a trimmer. The default setup is that of a mower with the cradle attached to the blade and handle. Mowing with this multi-purpose tool is quite similar to an actual mower with the quad setup and handle position. However, detaching the main unit from the cradle turns this gadget into an edger/trimmer, which is exactly what you need around those tight corners and obstacles. Trimming overgrown shrubs, chopping down weed, managing along pavement edges and around pots is real easy thanks to its constant speed, lightweight nature and angled design. Once done handling those hard to reach places, attach it back to the cradle and continue mowing as usual.
I have to point out though, even if you already own a full-fledged mower, this unique accessory is a lifesaver. A large gas powered mower cannot navigate corners, trim edges and control shrub growth but this landscaping tool can.
MTC220 as a Trimmer
It is as one would expect, the MTC220's forte is trimming. At the risk of being a vaunt, for me the cordless 3-in-1 design is an absolute must-have. Auto spool feed ensures you never run out of cord whilst trimming, so just direct the head where you wish to eat some grass and whack away. 12 Inch swath is actual a lot and helps you steer closer to obstacles much quicker than you otherwise would with a conventional trimmer. As a trimmer I give it a perfect five star score.
MTC220 as a Mower
Mowing is not at the top of the Black & Decker MTC220's to-do list. It can double as a decent tiny sized mower once you attach it to the four wheeled cradle but don't think it will suffice, unless your lawn's about the size of a kiddie pool. I feel its compactness and dual purpose nature makes it a good alternative to reel mowers, at best. If you don't want to exert yourself using a reel mower for small patches of grass, this is a decent replacement. As a mower I give it an average rating.
MTC220 as an Edger
Edging is just as important with this 3-in-1 gadget from Black & Decker. Twist the handle and the default trimmer converts instantly into an edger with a 12 inch depth. Engine mounts on one side leaving the other half open to get close to obstacles. Go as deep as you feel, if you plan on laying wires or invisible fences! No complains in this department, in fact I feel it is at best a trimmer/edger with the possibility to perform meagre mowing duties. I give it a perfect score as an edger.
---
PROS:
Single feed cord helps reach hard to reach spots with ease. Add to this the lightweight nature and it is the perfect weed whacker/edge trimmer. Adjusting the height is quick and easy with the handle completely user configurable with a pivot point to help angle the stem. The cradle attachment happens to be sturdy so you won't have to worry about the clamps coming loose anytime soon. Besides, it also offers two mowing heights. Oh! the batteries take less than 40 minutes to charge to 100% and each battery lasts a good 30 minutes on full charge.
CONS:
As an edger/trimmer the Black & Decker MTC220 is an absolute pleasure to use, but in my humble opinio, it fails to impress as a lawn mower. Due to the cord based mechanism of the trimmer, even with the cradle attached it will not give a uniform cut nor will it handle tougher grass strains above 4.5 inches tall. Moreover, the cradle is so small that it feels more like a vacuum cleaner than a mower and mowing a lawn more than 300 sq.feet will take forever. The unit requires you to depress the trigger on the handle to keep the cord spinning and while this isn't a pain while trimming, it does put a lot of pressure on the thumb finger and wrist when mowing.
Handy 3-in-1 Trimmer/Edger/mower
It ultimately boils down to whether this garden care accessory is worth having around. At around $140, you are not making a huge commitment and if you have a lawn with lots of shrubs, corners, edges, a pavement or walkway and so on then this is definitely worth having around. While the Black & Decker MTC220, 12-Inch, Lithium Cordless 3-in-1 (Trimmer/Edger/ Mower) does not impress as a lawn mower, it does a commendable job as a trimmer or edger.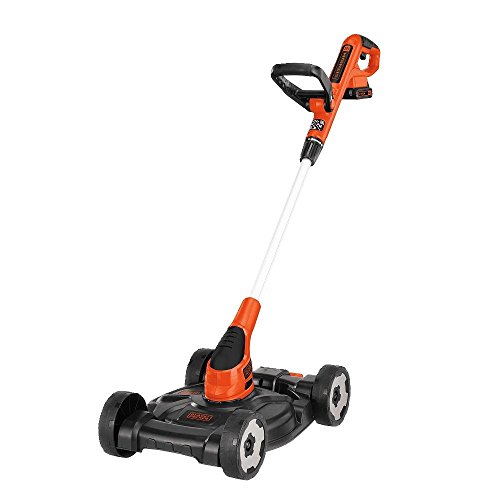 $

159.99
11 used from $129.00
3 new from $159.99
in stock