At first sight, the Troy-Bilt Premium Neighborhood Riding Lawn Mower doesn't appear to be a heavy-duty lawn sit-on mower with superior performance. But its sheer power and durability will have you amazed! Its 30" cutting deck is suitable for medium-sized lawns, while the advanced 420cc engine generates around 15 hp power, ensures peak efficiency, maximum fuel conservation and minimal emissions. Despite being a best-selling riding lawn mower with rugged performance, it is in fact one of the most compact models, weighed at just 340 pounds and with dimensions of 65 x 34 x 25 inches. Whether it's the fuel sight window, the precise 18" turn radius or the soft-grip, easily maneuverable steering wheel, the Troy Bilt 30" Riding Mower has been exclusively designed for hassle-free lawn maintenance.
Product Info:
Riding Lawn Mower
Rear Engine Rider
15HP, 420cc Single Troy-Bilt Engine
6-speed transmission
Features:
30 inch cutting deck
Mulch, Bag, Side-discharge Options
18-inch turning ratio
Electric Key Start
Weight: 340 lbs
2-years limted warranty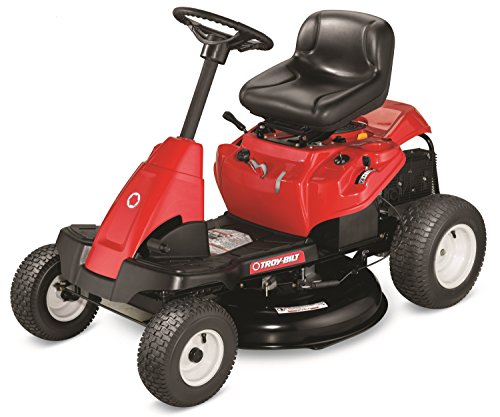 Troy-Bilt 382cc 30-Inch Premium Neighborhood Riding Lawn Mower
as of December 9, 2023 2:58 am
Features
Powered by a 382cc Auto Choke OHV engine with top forward speeds of 4.25 MPH and a 6-speed transmission
The 30-Inch cutting deck featuring 5 adjustable settings couples the benefits of a standard riding mower with the size of a wide cut walk behind mower
Designed with an 18-Inch turning radius with 13x5-inch front wheels and 16x6.5-inch rear wheels
Manual power take-off for fast and easy blade engagement
This neighborhood mower is ideal for standard land owners with a medium sized landscape and relatively even terrain
---
In-depth Review of the Troy-Bilt 420cc 30-Inch Rear Engine Rider
Ease of Use
Ok, remember the first time you were learning how to drive a car with manual transmission? Your dad probably asked you to put key the ignition, alternate one foot between the clutch and brake, while keeping the other on the accelerator, and use your hands for the steering and gear shift. It surely was difficult at first to find that rhythmic coordination between when to operate what, but once you got a few days of practice, there was nothing easier in the world! Well, the good news is that zooming ahead on a riding mower is a lot easier than riding a car. In fact, you can drive the Troy-Bilt Premium Neighborhood Riding Lawn Mower even if you don't know how to drive a car; it takes 5-6 mowing sessions max to get used to it. Start with neutral gear, which offers a reasonably slow speed for you to master all other controls- the speed lever, the height adjustment lever, the blade disengagement mechanism, the parking brake etc. Another advantage is the ergonomically-positioned seat that you can easily adjust to your convenience. Even the 18" steering wheel is suitably padded and can be adjusted in 3 height positions as peer your stature and convenience. The only minor safety issue I noticed was that the plastic footrests, despite having an anti-skid surface, is kind of slippery. So don't forget to wear protective gear- at least a helmet and sturdy shoes before you mount on!
Cut Quality
I've used the Troy-Bilt 420cc Riding Lawn Mower on all kinds of thick, coarse grass types. To my very delight, it has never failed me even once during the last four and a half months. Since this is a simple, yet powerful lawn tractor for beginners to get started, I even used the purchase opportunity to teach my 16-years old granddaughter how to ride one. She started off a bit shaky, but the ultimate payoff came when she was able to make those sharp turns for neatly cutting around flower beds or along the sidewalk, with utmost ease! A big issue with many walk-behind mowers is that the mulching quality is terrible. But with this riding mower from Troy-Bilt, the mulch is pulverized so well that you'll never feel like bagging again!
I have to tell you that this machine is not capable of mowing in reverse. However, if you really need this option and you can do some DIY fixes, you might consider to remove the yellow cable at the right hand underneath its fuel tank. Don´t forget to tape its end. Doing this allows you to mow in reverse as well:)
Height Adjustment
Since there's a separate blade engagement tab, you can first learn to drive the mower first and then gradually engage the blades when you're passing via greens and disengage them when you're above gravel or a mud path. As far as the height adjustment of the cutting blades is concerned, the mechanism is pretty simple. It's a single lever that you can adjust to 5 variable height settings based on the kind and length of grass that you're wading through. Considering that many bigger riding mowers offer almost 7 to 12 different cutting heights, the options are certainly less here, but it doesn't hinder this mower's impeccable performance in any major way!
Motor Power
There's a really impressive range of power tools and equipment that Troy Bilt manufactures for Lawn Care, Gardening, Clean-Up and Snow. The Overhead Valve 140cc Engine is a clear advancement over yesteryear riding mowers, and is everything that a modern-day home owner requires. For instance, the Fuel Sight Window on the 1.3-Gallon Gas Tank makes it so easy to check diminishing gas levels, well in advance. The cast iron engine is pretty compact, although the oil filter resembles one that's in your car. Despite the powerful 6-speed transmission of the engine (which generates around 14 to 15 hp power), I've never experienced a bumpy ride or an abrupt stop (you know, the one that kind of shakes your insides!). I guess the high quality roller bearings and solenoid ensure that its power-packed performance does not come in the way of ride comfort. However I found the motor to slutter a bit, so if you want a super silent rider, go for another one instead.
I guess I've totally forgotten to mention about the riding mower speed. At the max, you could embark on a speed of 4.25 miles per hour, which is not at all advisable for lawns spanning above 2 acres. But it's definitely a plus point for rookies who want to learn to take it slow and steady!
Maintenance
It's not just with the Troy-Bilt 30" Premium Neighborhood Riding Mower, but with any other riding mower, the maintenance hassles are far more than those of walk-behind ones. The reason is obvious- these are bigger, bulkier and noisier, owing to the more powerful engines. Thankfully in case of this Lawn Tractor from Troy-Bilt, the deck is detachable and can be washed easily. Also, the overall construction is weather-resistant to a certain extent, but you might still want to store it indoors if you want durability. And of course, you get a 2-years limited warranty which is all right when seen in relation to its price, but not a very competitive offer when you look at scores of other riding mowers in medium and higher price range!
Cost Effectiveness
The Troy-Bilt Premium Neighborhood Riding Lawn Mower is a really viable purchase when you need to tend to your yard which ranges from 1 acre to 2 acres tops. It is neither the cheapest or the most expensive one in its category. Its prime highlight is its user-friendliness, excellent maneuverability, versatility and the advanced safety features that it offers. For instance, standing up on your seat will cause the mower to halt immediately, and so will trying to go in reverse gear without disengaging the cutting blades. This mower is definitely not cost effective for vast, green countryside expanses with all sorts of obstacles and sharp slopes, but is definitely the most economically viable choice for fenced yards with fixed paths and narrow gates that require a compact, yet robust powerful mower to pass through!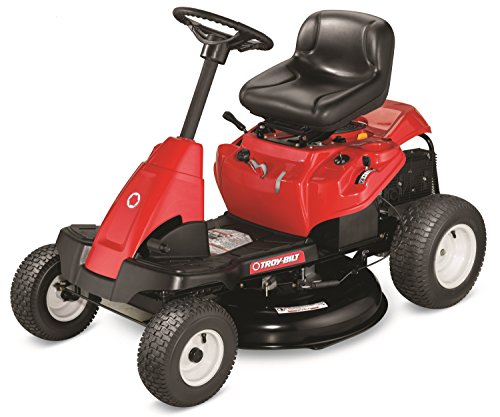 $

1,819.95
1 new from $1,819.95
out of stock

---
PROS:
Compact Design
5 Height Positions
Mulch, bag and side-discharge options
Adjustable seet and steering wheel
Compact, Yet Powerful Rear Engine Mower!When there's acreage preventing you from using a walk-behind mower for your yard, the efficient functionality of the compact, yet powerful Troy-Bilt 420cc 30" Rear Engine Rider is exactly what you need. Easy to ride, this well-built machine can help you scale large distances without tiring you out, and keep your landscape well-maintained at all times!
General Info
Features
Height Settings
Motor Info
Buyer Guarantee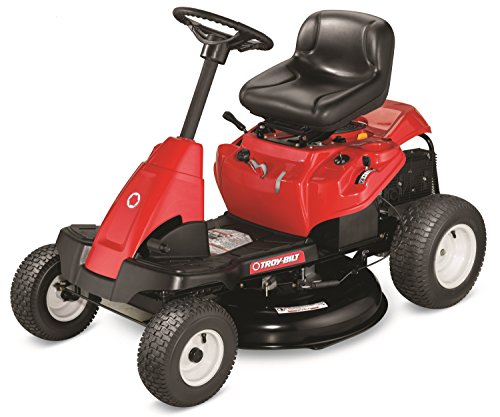 $

1,819.95
1 new from $1,819.95
out of stock