Maintaining a beautiful lawn takes a lot of effort and with this Craftsman Rear engine Riding mower you can cut down on that effort by a few notches. With a reliable 420cc Craftsman OHV engine relying on a 6 speed transmission and operating a 30 inch deck, your only job is to guide it in the right direction and watch as it eats through yards of grass with relative ease. No more push mowers, no more self propelled mowers, with this compact riding mower, you can relax and let it do the job for you. Max of 5mph forward speed and the ability to switch gears on the go, halt and charge reverse, do your landscaping the way you want to. By the way, this rear riding mower can easily take on rear attachments in the form of a wheelbarrow, tiny plough and more. It even allows for quick changing between mulching, side discharge or rear bagging modes.

Last update was on: December 8, 2023 11:30 pm
POWERFUL 382CC GAS ENGINE: Powerful gas engine suitable for larger yard jobs.
6 DIFFERENT SPEED OPTIONS: Rider can choose up to 6 different transmission speeds that suits their needs.
30-INCH CUTTING DECK: Wide 30-Inch cutting deck clips grass in one quick sweep.
INCLUDED DECK WASH: Save time with included deck wash for easier underside cleaning.
SUPPORTIVE MID-BACK SEAT: Back of the seat rests at the middle of user's back for extra comfort.
Product Info:
Riding Lawn Mower
Rear Engine Rider
420cc, one cylinder, 6-speed Kohler engine
16 inch rear wheels and 13 inch front wheels
Features:
30 inch cutting deck
18 inch turning ratio
5 Cutting height
5mph forwaurd and reverse speed
Weight: 335 lbs
2-years warranty
---
In-Depth Review of the Craftsman Rear Engine Riding Mower 420cc 
Ease Of Use
No, this is definitely not an easy rear riding mower to drive nor maintain. Does it need a lot of DIY handling? Not exactly, but you have to understand that this Craftsman Rear Engine Riding Mower is a delicate work of art. For such a small footprint and a powerful enough engine, I feel it has not done its best at being an easy to use machine.
First off, you will have a problem with the rear rider when reversing if you leave the blades engaged because of the reverse cutoff engine switch. Going through online forums, I found a quick solution for this, which is to place a short 3/8 inch plastic tube three inches long on the shift rod insulating it from the engine cutoff contact. Guess what, it works!
Moving on, the transmission and clutch both feel a bit twitchy although I believe this will calm down over time. Another potential problem you may face in its lifetime is the oil filter which tends to come with a tiny, but that a conventional car wrench can't tighten it. As for the sensors on the deck, they can get a bit jarred with a bump causing the ignition to switch off. The first time this happened to me I was flabbergasted since everything seemed fine. It wasn't until a dive into the exhaustive manual of the Craftsman 420cc rear riding mower that I figured out this problem.
Cut Quality
Thankfully, this Craftsman Rear engine riding mower does not suffer from poor cut quality and isn't affected by the condition of the grass either. So if you do manage to handle all mechanical DIY issues, cut quality will be the last thing on your mind – it is always perfect. The machine can side discharge, rear bag and convert to mulching with a separately sold mulch kit. The 16 inch rear wheels and 13 inch front wheel have Turf Saver Tires which reduce skidding on wet grass and increase cut efficiency. With all these features, this rider delivers an excellent overall cut quality.
Height Adjustment
Total of 5 adjustment levels and a single height adjustment lever conveniently positioned close to the deck underneath the seat helps quickly change deck height and make a perfect transition cut. I actually used it a couple of times to avoid sudden change of terrain from bumping against the deck underside. You get a maximum of 4 inch cut height and a minimum of 1.5 inch, which I think is more than sufficient for all home owners.
Motor Power
420cc Craftsman OEM engine with a lightweight construction manages to pump out decent torque and power driving this machine at a speed of 5mph in the forward and reverse direction. Just remember to use the trick I mentioned before with respect to reverse mowing otherwise you will always have to disengage the blades before putting the rider into reverse.
Maintenance
While the warranty is for two long years, it is the hefty amount of maintenance and DIY necessity that I really don't appreciate. If only it did not need some much maintenance, I would have gladly rated it as my top rated rear riding mower. Remember the oil filter issue, reversing shut-off, deck sensors and also take care of the spark plugs as they tend to die out rather quick.
Cost Effectiveness
Because of all the expense that goes into maintaining this rear rider, I feel its below $1000 price tag does not do any justice. Nevertheless, it does cost less than a thousand quid and that in itself is quite an achievement. If you are a handyman or someone with enough experience operating mechanical instruments, this should not be a problem otherwise you will mostly depend on your local Craftsman service center or engineer nearby.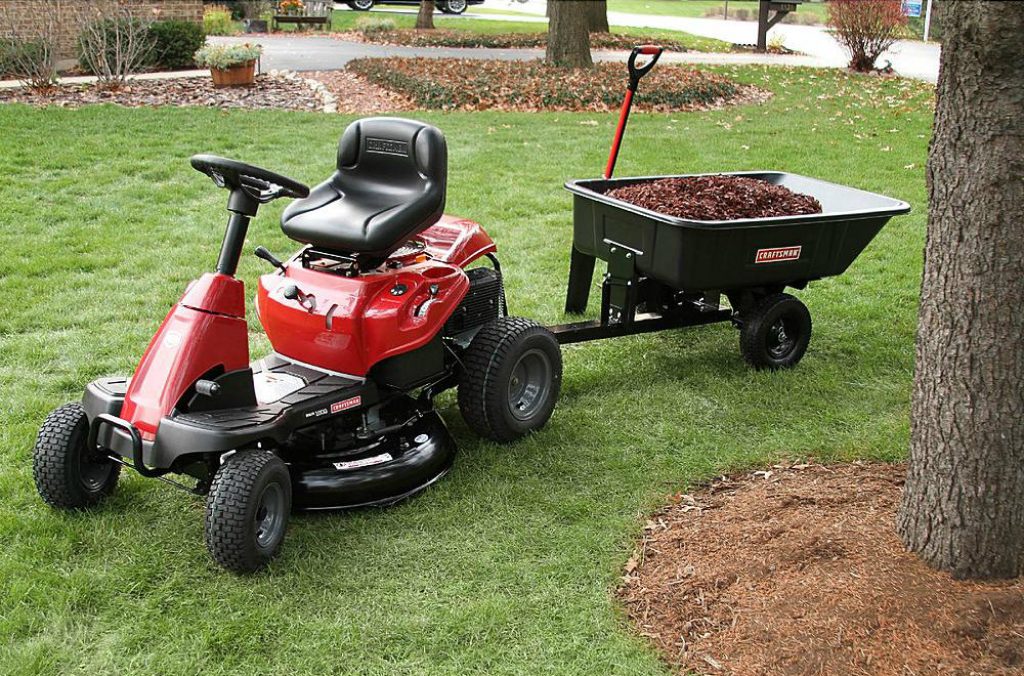 ---
PROS:
Powerful motor
Excellent cut quality
CONS:
Overall ease of use
Amount of maintenance needed
Perfect DIY ChallengeAren't afraid of a little grease? Love DIY projects and getting all mechanical with your mower? This Craftsman rear engine riding mower will be enough of a challenge to you while being efficient and effective with lawns less than 0.7 acre in size.