Reasonably priced and packed with a powerful rear engine from the stables of Briggs & Stratton, this Poulan rear engine mower is in my view the 'mini-Cooper' of the mower's world. Hats off to Poulan Pro because they always manage to astound me with creations that are top notch and user friendly. This particular mower is called the Inteli-Rider. While I remain ambivalent on their naming policy, I find the performance of a Poulan Pro mower to always exceed expectations. At just under $1000 it happens to be one of the lesser priced rear riders in the market and yet it offers a large 30 inch cutting deck powered by a 11.5 HP 4-speed OHV engine.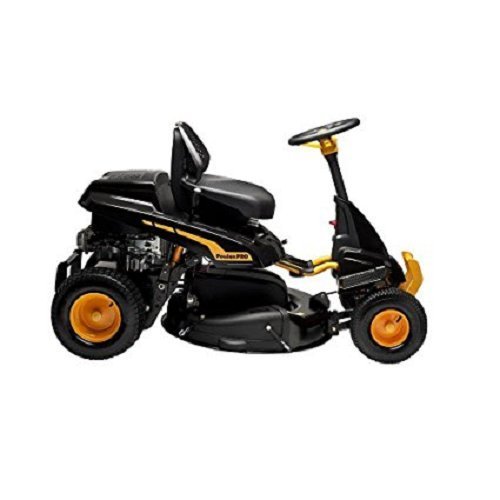 Poulan Pro 960220027 30" 10.5 HP Briggs and Stratton 4-Speed Gear Gas Rear Engine Riding Mower
out of stock
as of December 9, 2023 9:56 am
Features
Equipped with dependable, efficient Briggs & Stratton single cylinder engine with easy-to-service air filter
Ideal for smaller yards with both level or moderately hilly terrain
High performance air induction cutting deck allows air to enter the deck from the top to allow excellent cut quality, bagging performance and grass dispersal even in heavy conditions
14-in. turning radius, maneuvering around obstacles like trees, shrubs, and flower beds is a breeze
Product Info:
Riding Lawn Mower
Rear Engine Rider
11.5HP Briggs & Stratton OHV Engine
4-speed
Features:
30 inch cutting deck
Non-CARB Compliant
just 14 inch turning ratio
Electric Start
4 Height Positions
Weight: 291 lbs
2-years limited warranty
---
In-Depth Review of the Poulan Rear Engine Mower 96022025 
Ease Of Use
At first glance you do realize just how small this Poulan rear engine mower really is. In fact, I believe it is the smallest of all that I have had the pleasure of testing out and considerably lighter too. Naturally, this isn't designed for uneven terrain (I don't think any rear rider really is!). However, on flat open plains, release the throttle and feel the cool breeze move by. With controls that mimic driving a car, this is an easy mower to handle. Turn the steering to whichever side you want to go and press down on the gas pedal to accelerate. Braking is handled automatically as you release the gas pedal, so just step off the gas completely to come to a grinding halt.
Straight out of the box, it came with a detailed instruction manual and two separate warranty cards – one for the engine and the other for the mower itself. While the manual is detailed, it does explain a bit too much on every component for my liking. However, for those who have never driven such a modern machine before, it offers plenty of sound advice and enough cautions to keep your mower from accidental damage.
So why have I given it just 7 out of 10? Well, like I said before this isn't the most powerful nor expensive of rear riding mowers I have trialed over the past month. Its maximum reverse speed is 2mph, which means trying to mow in reverse is as good as pushing a walk-behind mower, it really is that slow. Not to worry though, it notches up 5mph in the forward direction. Also, I found the gas pedal came a bit loose out of the box and that meant spending a good one hour figuring out what was causing this.
What I did like were the 16 inch rear wheels with 13 inch front wheels for better maneuverability. And I really had no complaints about the maneuverability as this little machine has a whopping 14 inch turning ratio, which makes it one of the most flexibile rear engine riders I have tested so far. Speed issues aside, I did have some great fun crossing over my yard!

Cut Quality
Yup, it has a decent cut quality. My trial lawn wasn't my own rather my immediate neighbor to the front. They decided to mix up their grass types for a more manicured lawn and while this rear rider managed to mow it all down to perfection, with tougher or rather older grass, I had to make a second pass if it were too high. Maybe, it had something to do with it raining the previous night but for this much power and such a large deck, (not to mention its rather slow reverse speeds), I expected a tad bit more.
Height Adjustment
1.5 to 4 inches is what you get to play with and that's about it. You only get 4 cut height positions equally spaced out, which is alright if you aren't a meticulous mower, but most other competing brands tend to offer up either an extra half inch of height or 5 adjustment positions. It features the class default single lever mechanism to control the height, which thankfully is closely placed to your seat.
Motor Power
11.5 HP Briggs & Stratton OHV engine with 4 speed transmission and a large enough gas tank allows you to mow up to 1 acre of land before needing a refill. The engine and power output is ample for the single blade 30 inch deck but I feel they could have offered a bit more power at least for the reverse gear. Once again, 2mph is as good as crawling to the finish line.
Maintenance
The Inteli-Rider from Poulan Pro isn't made to last forever. Although no mower really is made that way anymore, you will still be happy to know that this mower is completely assembled and manufactured in the USA. Besides, you get a complete 2 year Limited warranty from Poulan Pro and judging by their usual chivalrous response to service or complaint calls, this ought to come handy if ever any of its plastic or other components decide to die out on you. I am not that sure though an engine service will be covered directly by Poulan Pro.
Cost Effectiveness
For just under $1000, with a 30 inch cutting deck, lowest turning radius of 14 inch and plenty of power, the Poulan Pro 96022025 is definitely worth its price tag. However, keep in mind that this is a brand new model on the market so you may not get any help yet from fellow mowers online or in forums. Nevertheless, going by the reputation of Poulan Pro products and their ability to deliver proper service, you can safely part with your savings for this Poulan rear riding mower. The mower is backed by a 2-years limites warranty.
---
PROS:
Small design
Flexible
Price tag
CONS:
Slow Reverse Speed
Cut quality for taller grass could be improved
Compact & Stylish – USA Made Rear Engine Rider
Quite simply, this Poulan rear engine mower is stylish, compact, sexy and powerful for an acre of land. Nothing much to nag on, but plenty of good things makes this a must have rear rider if you have used a Poulan Pro before and believe in their commitment to making every product within the US.
Add your review  |  Read reviews and comments
General Info
Features
Height Settings
Motor Info
Buyer Guarantee