In-depth Review of the Murray 24 inch Rear Engine Riding Mower
The Murray 24" rear engine riding mower is the ultimate lawn-care machine for small to medium-sized urban lawns with a flat terrain. Equipped with a meticulously built 190cc Professional Series Engine from Briggs and Stratton, this user-friendly mower is undoubtedly the most popular amongst rear engine riding mowers. You can easily adjust the Deck Height Lever to vary the height of the sturdily-built, 24" stainless steel cutting deck to 5 different positions. Also mow neatly and efficiently around the tightest of curves and obstacles, thanks to its compact design and dainty 18" turn radius.
A ready respite from bulky, chugging lawn tractors, this rear engine riding mower from Murray is certainly worth looking into!
---
Product Overview

Last update was on: September 27, 2023 5:53 am
This Certified Refurbished product is tested and certified to look and work like new. The refurbishing process includes functionality testing, basic cleaning, inspection, and repackaging. The product ships with all relevant accessories, a minimum 90-day warranty, and may arrive in a generic box.
Product Info:
Riding Lawn Mower
Rear Engine Rider
8HP, 190cc Briggs & Stratton Engine
6 speed Transmission
CARB Compliant
Features:
24 inch dual blade steel cutting deck
5 height Settings
Weight: 340 lbs
2-years limited warranty
---
Ease of Use
Let me tell you outright, that the Murray 24" rear engine riding mower is not built to be used on slopes. So if you have even a slight 5-10 degrees slope, you're better off using a zero turn mower (if you can afford one), or a high-grade lawn tractor like the Cub Cadet 46"Hydrostatic Riding Mower. Having said that, this delightfully light mower (weighed at just 340lb) from Murray, has its own inherent advantages. Firstly, it is incredibly easy to assemble , and all the more simple to learn how to ride it. Do take note of the fact that the engine comes pre-fuelled, but since the oil tank is really small (only 0.3 gallon), you'll have to keep re-fuelling it from time to time. Now that's where the first issue pops up; you need to purchase an oil siphon separately, as you otherwise cannot reach the tank inlet. Another issue is that the machine doesn't let you mow in reverse or even let you shift gears on the go. So you've actually got to stop for the blade to disengage to change the gear in reverse mode and then start riding again. Nevertheless, this 64 x 34 x 26 mower is super-easy to spin around the smallest of obstacles, fits into tight spaces, and is a solace for all those who cannot afford a large storage space!

---
Cut Quality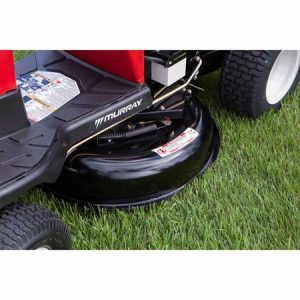 Saying that this Murray rider has a 24" cutting deck, is like stating the obvious. But as an expert, I'd also tell you that the 2 blades are razor sharp and perform an excellent cutting job, even if the grass has terribly overgrown to 7 inches, or happens to be a little wet. One of my clients took a trial run with this mower; unfortunately he wasn't familiar with the 'maneuvering aspect' and ended up badgering it against a tree! Thankfully he was wearing protective gear (as everyone should) and the mower was sturdy enough to withstand the blow, but one of the blades got stuck and I had to replace it. This obviously implies that the blades are not as toughly built as they should be. You can side-discharge or mulch with this machine. The mulch kit that comes along yields a very fine quality mulch; so you end up spending very less time fertilizing your lawn, as you're returning all the nitrogen back to the soil!
---
Height Adjustment
For a mower of this price range, I think that the 5 adjustable cutting positions offered by the Murray 24"Rear Engine Riding Mower, is fair enough. You've got a single lever that's pretty much accessible from your seat, to make the adjustment. However, its 10" front wheels and 16"rear wheels are turn-friendly, but are ideally aligned for tackling plain yards (irrespective of the number of obstacles) only, without any slopes.
---
Motor Power
You'd be amazed at how powerful this feeble-looking beast is! All credit goes to the Briggs and Stratton Engine (875 Professional Series OHV) that yields 6-speed transmission, power up to almost 8HP and 190cc engine displacement. Motor-wise, the only issue with the Murray 24" Rear Engine Riding Mower is that it does not have throttle control, so you end up running the engine at full RPM all the time! This is quite disappointing as it brings down fuel efficiency to some extent, and at time, the perpetual vibration can be annoying. Also, I've already spoken about how incredibly small the oil tank is (0.3 gallon), so regular re-filling is something that you need to get used to!
---
Maintenance
The overall build of the Murray 190cc rear engine riding mower is such that it's easy to tend to it on a long-term basis. Both the Front Axle and the Cutting Deck are made of sturdy steel, and the oil drain tube comes in handy while servicing the engine. Only the blades are not as durable as they're supposed to be. There's a 2 years limited warranty period that comes along, and the Original Replacement Blade and Spindle Assembly are available on Walmart, at extremely reasonable prices. If you're planning to store this mower in an outdoor space, make sure you buy the optional mower cover to protect it against harsh weather conditions.
Cost Effectiveness
The cost-effectiveness of the Murray 24" rear engine riding mower is strictly based on the perception and requirements of the owner. No, I'm not trying to sound diplomatic! The thing is, with the limited usability of this mower, it is mostly ideal for certain types of lawns and certain home-owner requirements. If your turf has several tight spaces that need to be mowed regularly and you're not enthusiastic about pushing a mower in the blistering heat or risking the use of a self-propelled one, then this Rear Engine Rider has been built for you. Other great aspects are that you do not need to buy the mulch kit separately, the battery comes along and it also happens to come pre-fuelled. But remember, you cannot use this rear engine rider for towing anything like a cart or a snow blade. You also need to spread the mulch yourself, or purchase a bagger separately if you're not into mulching.
---
Good Alternative for Push Mower
The Murray 24" Rear Engine Riding Mower is not a perfect mower, but for home owners who find it tiring to work with a push mower, and yet do not want to opt for a bulky or expensive lawn tractor, this offers an extremely feasible 'middle-path'. Especially for the elderly, or those hindered by mobility issues, this affordable Rear Engine Rider from Murray works like a charm, provided you have a flat yard with a maximum area of one acre.
PROS
Lightweight
Simple Design
Mulch Kit Included
CONS
No Throttle Control
No Reverse Mowing
Oil Siphon Required
General Info
Features
Height Settings
Motor Info
Buyer Guarantee