Masters of the tractor segment, John Deere Lawn Mower Tractor D125 is one investment that you will never regret making. I got a chance to test drive one of these beauties a while back and ever since I have been wanting to make a review of my experience. I got in touch with John Deere about what to expect if I were to purchase one of these beauties and the foremost quote that struck me was the fact that every customer who purchases John Deere Riding Mowers gets a visit from a certified company instructor/operator who teaches everything on the specific model including maintenance and proper operating procedure. Tell me, where do you find nowadays this kind of service? Really awesome! Ofcourse I gratefully thanked to poor guy who gave me the visit-call as I didn´t need any explanations myself, but I strongly recommend to accept this home visit to get to learn from an expert all this Ins & Outs of your new riding lawn mower.
This D125 model packs in a V-Twin engine pumping out 20 HP that powers the 42 inch deck beneath using hydrostatic transmission and dual pedal foot operation. It can reach 5.5 mph going forward and to help you concentrate more on mowing, less on driving, the unit also features a cruise control system. Add to this the ability to go in the reverse direction, completely configurable high back seat and a choice of bagging, mulching or side discharge – it is truly a marvel of modern engineering.
Product Info:
Riding Lawn Mower
Lawn Tractor
20 HP, 656cc V-twin John Deere branded engine
Hydrostatic transmission
Non CARB-Compliant
Features:
42 inch dual blade cutting deck
Cruise Control
Rear-wheel drive
Weight: 438 lbs
2-years or 120 hours warranty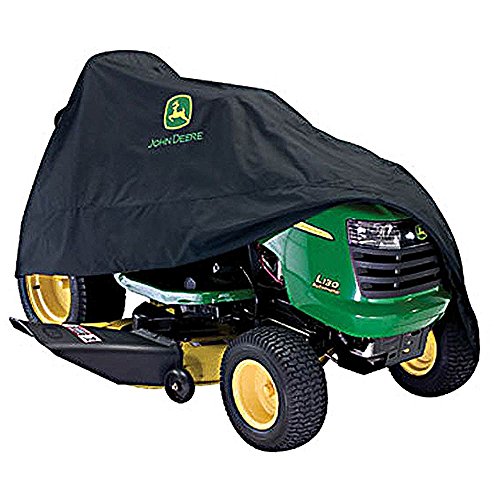 John Deere Original Lawn Tractor Deluxe Large Cover #LP93647
7 new from $99.99

as of September 27, 2023 7:03 pm
---
In-Depth Review of the John Deere D125 Lawn Tractor
Ease Of Use
John Deere unlike any other tractor mower brand invests a lot into making sure their machines are safe and reliable for years to come. With the John Deere lawn mower tractor D125, this translates to heavy duty iron front axle, rust resistant steel welded frame, polycarbonate UV-protected front hood and an overall high quality of construction. Even the seat feels superior to many of the tractor mowers I have tested out. You can't start the engine if you don't keep the key in ignition, the mower blades will not engage until you move and they momentarily lock up when you go into reverse to prevent pivot holes. All-in-all the safety and user-friendly features make this an extremely easy ride-on mower to handle. Besides, you also get a free tour of the machine from the company after purchase!
Changing speeds, braking and turning is the same as in an automatic car as for adjusting height, you have a lever close to your seat. Cleaning deck is just as easy with the inlet on the side that lets you plug I a pressure washer or a normal garden hose and blast the innards. Changing oil, filling up the tank, regardless of what you need to do or maintain, the instruction book has it all in minute details with plenty of step-by-step pictures.
Cut Quality
Whether you use a mulch plug to mulch or a rear bag to collect clippings, the cut quality is always the same. Be it 2 feet tall grass or 6 inch high, choose your appropriate height setting and start riding the John Deere lawn mower to get your perfect cut. The only thing I noticed worth mentioning in the negative is that when you turn, the front end tends to dive a bit, which affects the cut height a tad bit. I found making slower turns to fix this to a great extent. Also, mowing in reverse can at times scrap the ground if you maintain a height of less than 1.5 inches.
Height Adjustment
1 inch to 4.5 inches is a huge height adjustment range. Unlike cheaper riding mowers, John Deere allows you to increase the cut height by ¼ inches allowing for lots of options. This is rare regardless of the brand or type of mower, and a welcome addition.
Motor Power
Even though this is a 20 HP mower, I give it a perfect 10 by 10 simply because of the overall performance. I never felt underpowered driving up a steep slope neither did the tractor give the impression of going wild downhill thanks to immaculate breaking. The fact that this tractor comes with aftermarket add-ons such as a spreader, aerator and so on proves just how reliable and sturdy the engine on this John Deere riding mower is. And if you still have doubts, remember that this is a V-Twin engine and not a single cylinder cheap version.
Maintenance
All riding mowers need some amount of maintenance, and compared to walk-behind mowers a lot more. The John Deere D125 however comes with a highly detailed manual and a first time instructor teaching you everything you need to know about the tractor maintenance routines. Basically, you never have to worry about taking care of something because it is all shown to you in the start and when you do need something fixed or looked at, give a call to your local John Deere service technician.
Cost Effectiveness
Usually I don't recommend going in for any mower above $2500 especially if it isn't a massive riding mower, but in the case of this particular riding mower, I think I can make an exception. If you want a one-time investment, something that will never let you down no matter what and can be extended in its usability with after-purchase add-ons this is the one to get.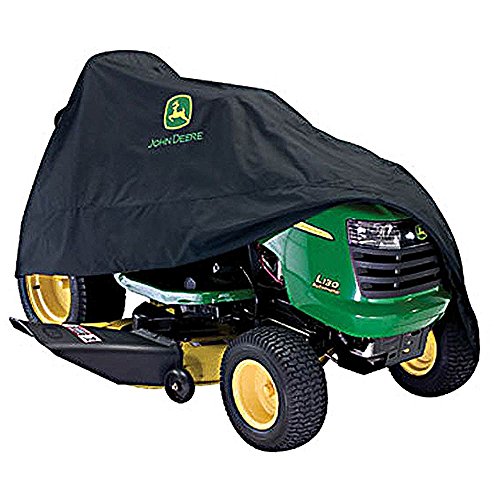 $

99.99
7 new from $99.99
in stock

---
PROS:
Great Overall Performance
Perfect Cut
Compact Design
A Well-Deserved Winner!
The John Deere lawn mower tractor D125 for me is an outright winner among the lot not because of its massive nature or the long seeded heritage, rather it happens to be a mower capable of doing more than its DNA allows. If you can see past its huge price tag and happen to have a large yard with slopes and troughs, get this – you won't ever regret it. Trust me, in the three times I got a chance to test this beast out, I was sold on why I need one for my lawn!
Add your review  |  Read reviews and comments
General Info
Features
Height Settings
Motor Info
Buyer Guarantee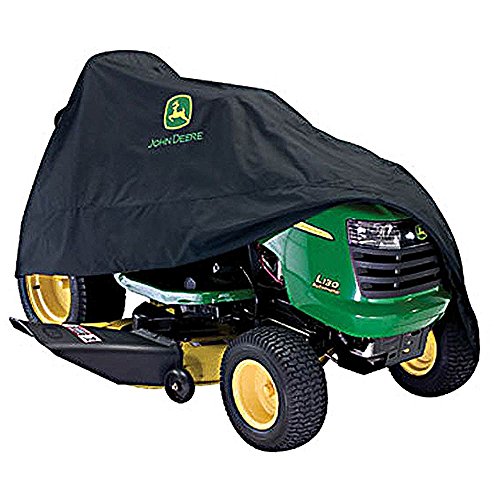 $

99.99
7 new from $99.99
in stock