Forget about gas, fumes and oil with the Earthwise electric lawn mower 50220. This petite colorful machine powers up with a single press of the start button, discharges from the side, mulches or collects in the rear bag while handling multiple cut height adjustments with ease.
The V shaped handle with cushioned grips add to the ergonomics of the mower and coupled with its lightweight nature make it a perfect fit for those with a tiny lawn or yard. But, don't let the tiny frame fool you because this is, at the end of the day, a thorough-bred workhorse.
Product Info:
Walk behind Mower
Electric (corded)
12 Amp. motor
Features:
20 inch cutting deck
Comfort V-handle
Triple discharge option
weight: 62 lbs.
2-years warranty

Last update was on: September 26, 2023 9:48 pm
Powerful 12-Amp motor provides the power to cut all types of grasses; High efficiency motor for gas-like power; No gas, no oil, no fumes
Large 20" cutting width with single lever easy-change cutting height adjustment from 1.75"-4"; Large 9.5" rear & 7" front wheels for easy maneuvering
3-in-1, easy on/off side discharge, rear bag, and mulching system; Adjustable comfort 'V' handle for easy of use
Compact and slim frame with folding handles for easy storage; Cord retention hook keeps cord secure while in use
---
In-Depth Earthwise Electric Lawn Mower 50220 Review
Ease Of Use
Assembly straight out the box takes about 15 minutes although the last 10 minutes are spent removing all the protective packaging over the mower. This push electric mower features a 20 inch cutting deck with a moderately powered motor that draws 12 Amps and tops out at 3,500 RPM. What it means is that you need not be in a hurry mowing your lawn. It handles moderate sized lawns rather well and can even tackle tough patches of rugged grass as long as you don't set the height too low.
As for the V shaped handle with cushioned grips, they feel much like the handles you find in a gym so they are absolutely comfortable.
The only gripe I have with the Earthwise Electric Lawn Mower 50220 is its tendency to cut-out under heavy duress. Thankfully, the engine does not blow out suddenly. It tends to gradually die down when pressed too far. Another nagging worry is the front wheels that are a tad too free. They tend to wobble and move when pushed ahead, while this is a design element of the mower making it easier to turn and such, it does make things a tad bit harder trying to keep the mower straight in line on uneven terrain.
Cut Quality
No doubts here on the cut quality. Regardless of the grass type, as long as you don't cut too low you will find yourself satisfied at the end of the day. It does offer a single lever height adjustment tucked in front of the right rear wheel. Really nice is the triple discharge option. You can either mulch, rear bag or side discharge with this mower.
Height Adjustment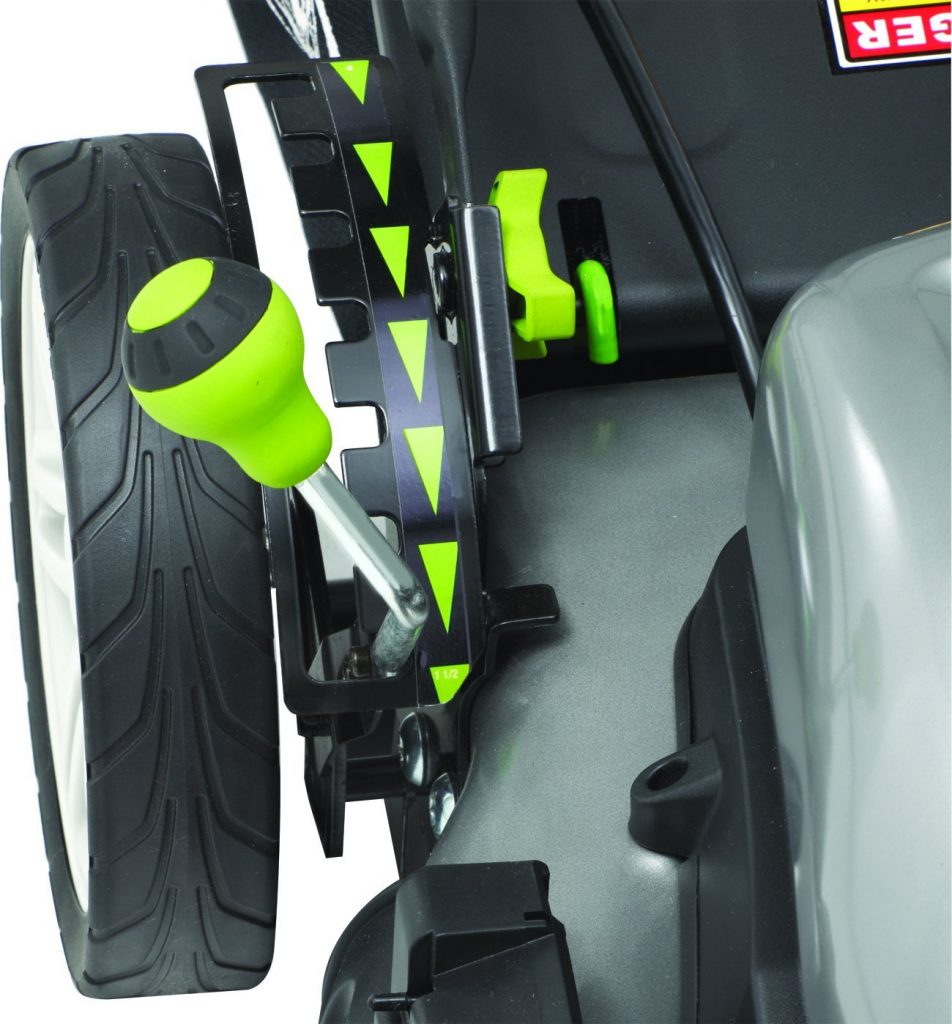 Multiple height adjustments with simultaneous all-wheel response using the single lever near the right rear wheel helps quickly change height. This is important as the Earthwise walk behind lawn mower tends to die on heavy patches or when it is pushed beyond 3,500 RPM. Just increase the height by one point, pull back a bit and start over again when this happens.
Motor Power
While the motor is rated at 12Amp, it does not run at the highest possible RPM. With a 20 inch cutting deck, the blades are larger than normal electric lawn mowers and it needs more speed to plow through thicker growth. This is why at times the motor may drop out. Thankfully, excess load does not abruptly stop the motor as it gradually powers down. You simply have to start over again and make sure not to push it beyond its capacity.
Maintenance
The handle bar grips tend to tear off over months of use and the front wheels will need regular tightening owing to their freedom. Other than these minor niggles, you will eventually have to sharpen the blades as they lose their sharpness. On way to avoid early replacement of the blades is to always spray PAM on them before each session.
Cost Effectiveness
At its price, the Earthwise 50220 is a large, heavy and multi-purposed mowing machine. It isn't exactly the best in the market neither is it the most powerful and adept, but it is an all-rounder with equally good performance in all areas. There are similar priced mowers with slightly smaller cutting decks that might be better but I feel for the price it is well worth the investment.
---
PROS:
Multiple height positions
3 discharge options
good cut quality
CONS:
Motor needs more power at highest RPM
Great Overall Performance!The Earthwise 50220 corded electric mower reduces the time required to mow your lawn, eliminates the need of refilling the gas tank and helps your neighborhood sleep easier through the mornings. It offers you a good overall performance.
General Info
Features
Height Settings
Motor Info
Buyer Guarantee