In-depth Review of the PowerSmart DB8605 Self-Propelled Gas Mower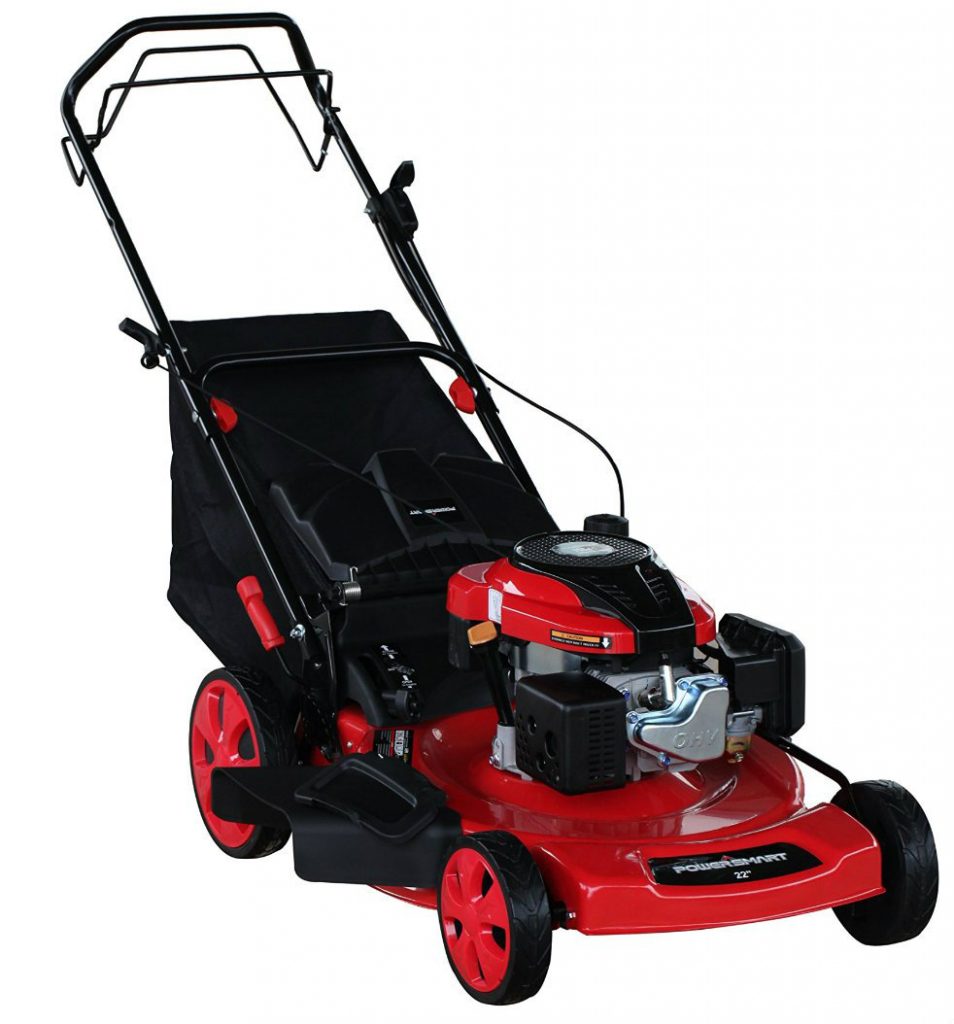 The PowerSmart DB8605, 22 inch Self Propelled Gas Lawn Mower has been built, particularly keeping in mind the requirements of home owners with small yards. Compact, lightweight and nifty, this gas-run mower is projected to power its way through your lawn with remarkable ease. Its impressive rear-drive build adds on to its dexterity, while the advanced 'deep-dome' deck design differentiates this model from most other self-propelled lawn mowers in the market.
Let's find out if this self propelled gas mower from PowerSmart is really worth your money.
Product Overview
---

Last update was on: September 26, 2023 11:55 pm
Powered by 161 cc engine delivering the right amount of power in a compact, lightweight package
Easy pull starting. 21-Inch Steel mowing deck
2-In-1 side discharge and mulching capability allows you to spread grass clippings to the side, returning key nutrients to your lawn so your grass can grow healthy and thick
5-position height adjustment allows you to change the cutting height to easily cut grass, weeds and overgrowth, and the 8-inch rear wheels make it easy to push.
---
Ease of Use
Unlike most other mowers, the PowerSmart DB8605, 22 inch Self Propelled Gas Lawn Mower does not come pre-assembled. However, assembling it is not difficult at all; it should hardly take you 15 minutes. I also observed how the packaging carton is not as sturdy as it ought to be; no wonder there are so many complaints about faulty parts and damage in transit.
According to the manufacturer, this model is pecially designated for uneven terrain and tight spaces, so I was quite excited about the 'maiden launch' of this machine on my yard. It took me at least 2-3 pulls to get this beast started. The first 10 to 15 minutes were non-eventful, but after that there was a continuous whirring noise from the cutting deck. That's when I noticed that the height adjustment knob had fallen to the bottom level and the mower was literally scraping the yard! Also, there's no throttle stick, and you're pretty much confined to pacing ahead with this monster at one constant speed.
Now moving over to a few positive aspects- the overall structure is quite compact and lightweight at around 77 pounds and 73" x 23" 40". The 8" front wheels and 10" rear wheels offer good maneuverability around tight spaces. Even the bag for grass clippings is made of sturdy polyester and has a 15-gallon capacity, which is much higher as compared to other mowers in the given price range. The safety blade stopping mechanism, which needs you to disengage the blades to go in reverse, is another positive aspect for first-time users.
---
Cut Quality
The PowerSmart DB8605 mower boasts of a rugged steel cutting deck with 22" width. Just so you know, this size is apt for a yard of half to one acre. All 3 standard options of bag, mulch and side discharge are present, but the transition is not smooth. The lever tends to get stuck sometimes. I'd say that the mower mulches fairly well, and even the bagging capacity is decent. The problem arises in its core competence of cutting grass- I guess the drive-train is designed in a way that doesn't transmit the required power to the cutting deck. So if you pass through any patch with grass blades over 5" tall, this machine tends to bog down. Ultimately, you end up yanking it from such tough spots; trust me, that's not a good option if you have a sensitive back!
---
Height Adjustment
In theory, the 8-point height adjustment option of this PowerSmart DB8605 Self Propelled Mower (especially for the price you're paying), sounds like a superb deal. The range of 1.25 to 3.25 inches is also fine. The height variation lever doesn't require much effort to adjust it, which is good; but the major flipside is that it also slips off quite easily on its own! So unless you want a jagged layer of grass in your yard owing to the constant height fluctuation, you might want to fasten the knob in its place with a piece of string. Honestly, this is really disappointing, and if you're not careful, the blades will remain at just a whisker's width away from the ground, massively disfiguring your pristine lawn!
---
Motor Power
The PowerSmart DB8605 self-propelled mower has an efficient 4 stroke, 196cc engine which generates 6.5hp engine power with 0.71 gallons fuel tank capacity. Despite not being Carb-Compliant, this is no doubt a powerful engine. So one would assume that this rear drive mower does a fantastic job ,at least in terms of conquering slopes or tough terrains. Unfortunately, that's not the case here. Most of the engine power is directed towards the wheels and the cutting blades revolve sluggishly. So most areas require more than one pass, and the blades get stuck if the grass is too tall. The fact that there's no speed-adjustment option, adds on to your woes!
---
Maintenance
First and foremost, the rattling sound from the gearbox itself speaks volumes about the inefficient design of this mower. Of course, the PowerSmart 22" Self Propelled Gas Lawn Mower comes with an assured 2 years warranty, which is good value for money. Also, you're free from the tedious job of mixing oil and gas here. Given the compact design, it is also easy to clean, fold and store the mower in small spaces. But the overall construction is extremely cheap. The only strong part is the steel cutting deck. Most other parts (especially all handles and knobs) are made of cheap plastic.
---
Cost Effectiveness
Despite being priced much lower as compared to self propelled lawn mowers from competing brands, in my opinion the PowerSmart DB8605 fails to make its mark as a 'value-for-money' machine. I've already highlighted the positive aspects like reliable engine power and reasonably good mulching and bagging. But the poor construction, shaky parts and disappointing height adjustment bring its overall score down.
---
Disappointing…..I've been in the landscaping business since decades; and trust me, I'm not one to mince words for sure! Despite its reliable engine and rear drive self-propelled operation, the PowerSmart DB8605 22 inch Self Propelled Gas Lawn Mower doesn't quite make its mark as a self-propelled lawn mower that you can bank upon at all times (no matter how small your lawn is). This might seem to be a pocket-friendly lawn maintenance tool at first, but if you're looking at frequent usage and rough terrain, you might want to opt for models that are more sturdy and efficient, such as the Toro 20383 or the Snapper 21" Self Propelled Lawn Mower.
PROS
Cheap Pricing
3-in-1 Features
Large and Sturdy Bagger
CONS
Difficult to Start
Height Adjustment slips out lever
General Info
Features
Height Settings
Motor Info
Buyer Guarantee