Say goodbye to noxious fumes, gas and oil with the cordless electric lawn mower: Sun Joe iOn16LM. This mower operates on 40 Volt lithium ion batteries that power a deck of 16 inches through thick and heavy grass growth with the ability to cut in 6 different height settings. All this without making any noise, disturbing the neighbors or releasing toxic fumes into the atmosphere. The Sun Joe cordless dynamo is actually designed for longer performance allowing the 40 Volt batteries to operate for 40 minutes while retaining efficiency with a brushless motor that is certified to last over 2000 hours of operation before losing integrity. Easy to start, easier to change height and collect grass clippings in the accompanying rear discharge bag, this cordless lawn mower is certainly worth looking further into.
Product Info:
Walk Behind Lawn Mower
Electric (cordless)
600W brushless motor that runs on 40 Volt Li-ion batteries
Features:
16 Inch cutting deck
6 cutting height options
compact design, suitable for small lawns
ETL approved and Energy star certified
Weight: 33 lbs
2-years full warranty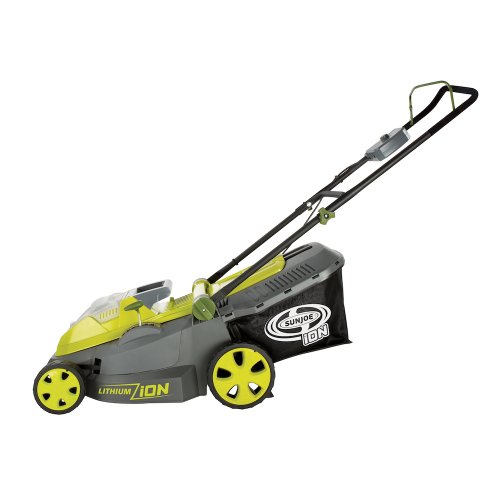 Sun Joe iON16LM 40-Volt 4.0-Amp 16-Inch Brushless Cordless Lawn Mower
2 new from $249.99
4 used from $192.07
Free shipping
as of September 27, 2023 4:53 pm
Features
No pull cords, gas, oil, tune-ups, carbon emissions or tangled extension cords
Powerful brushless motor increases battery efficiency, maximizes motor performance, decreases noise and vibration and extends motor life
Compact design ideal for small to mid-sized lawns. Cutting options - Bag and discharge chute
6-position height adjustment lever tailors grass cutting height from 1.18 to 3.15 Inch
ETL approved; Energy Star certified.Deck Material:ABS Plastic
---
In-depth Review of the Sun Joe iOn16LM Cordless Electric Mower
Ease Of Use
The cordless electric mower is easy to assemble straight out of the packaging and for a change it is nice to see a really detailed manual. Sun Joe engineers really don't want to leave anything to chance with their creation. From attaching the handles, preparing for the first run, you probably won't need more than 10 minutes. Something really nice with the Sun Joe is the rechargeable 40 Volt battery that comes fully charged in the sealed packaging! So once assembled you are ready to rumble.
Choosing height, starting the machine, pushing it across your yard, cleaning the rear bag out are all super easy with this mower. The only problem I have with the Sun Joe iON16LM is the really small deck size coupled with the inability to mulch or side-discharge. This would have been a minor nag had the rear bag been better made. Quality isn't an issue rather it is the fitting. The rear bag has a small gap with the mower's rear which tends to shoot grass clippings upwards and clutter the lawn a bit. This happens only with empty bags and it stops once the bag has collected at least 1/4th its capacity

Cut Quality
You cannot mulch or side-discharge with this cordless electric mower. The Sun Joe electric iON 16Volt at best only mows and that too discharging grass to the rear. Thankfully, the mowing quality never deteriorates or falls behind, regardless of the charge left in the batteries or the capacity of the rear discharge bag. It works fine with tall and short grass, over dense patches, lighter more baren areas and so on.
Height Adjustment
Usually walk-behind mowers come with 8 to 12 height adjustments. This Sun Joe however has only 6 height adjustments ranging from 1 inch to 3.15 inches. Not bad, but it is a tad bit less than many competing models and brands. Thankfully, the height adjustment lever is more of a gear mechanism that raises the entire mower up above the ground at once.
Motor Power
No questions here, the Sun Joe electric lawn mower packs in a heavy-duty cordless brushless mower. With a peak power rating of 600 Watt, operating on 40 Volt Li-ion batteries that deliver a peak current of 2 Ampere, this mower has plenty of juice to go around. No wonder, it does not stutter on heavy load or clump up on thick growth.
Maintenance
Good quality construction, excellent blade design, superior battery quality all ensure that the Sun-Joe never needs paid maintenance until two years have passed. And if something goes wrong in these 24 months, the all-inclusive 2 year warranty cover will take care of everything. Your investment is protected for at least 2 years
Cost Effectiveness
Considering the fact that this Sun Joe cordless lawn mower costs near $400, some might say it is too expensive for its size and functionality. However, having tried out plenty of cordless mowers, I feel the price is justified because of three reasons. First, it packs in a powerful motor with ample battery life. Second, the warranty is extended over 2 years and covers everything that can possible go wrong and finally, the fact that this mower is designed to be lightweight, sturdy and an excellent performer.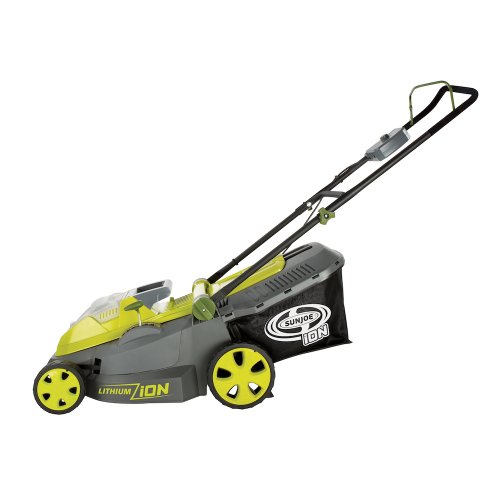 $

293.99
4 used from $192.07
2 new from $249.99
in stock

---
PROS:
Good quality construction
Excellent blade design
Superior battery durability
CONS:
No mulch or side-discharge functions
Lean Green Cordless Machine!
Do you want dependability, longevity and lightness in your cordless mower? Then the Sun Joe iON 16 Inch 40 Volt cordless lawn mower is what you should buy. This mower is perfect for small to medium sized lawns, does not pollute the environment and yet never lets you feel sorry for having replaced your petrol mower. Not even with its not-so-fancy green design:)
General Info
Features
Height Settings
Motor Info
Buyer Guarantee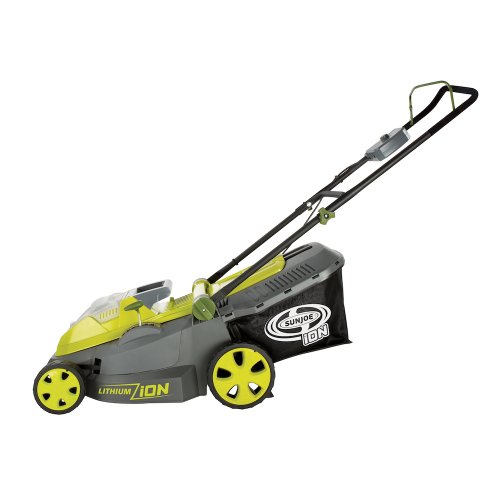 $

293.99
4 used from $192.07
2 new from $249.99
in stock